Racing challenge for injured NI soldier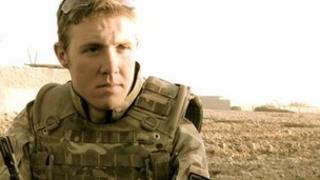 A County Antrim soldier who lost part of his leg in an attack in Afghanistan is about to embark on one of the most gruelling challenges of his life.
Philip Gillespie joined the Army cadets when he was just 12.
A decade later, at 22 and already a corporal, he was leading a squad in Afghanistan's Helmand Province.
His future seemed bright. But in one moment on 9 January, 2011, everything changed.
"I was walking down a sandy track and my right foot hit an IED (Improvised Explosive Device), " he said.
"It blew my foot off. It just disappeared with the boot."
The Broughshane man has a prosthetic limb from his right knee down. His left leg is badly scarred.
But he is calm, almost detached, as he recalls the attack.
"I saw a massive, bright light and heard ringing in my ears," Philip said.
"It blew me onto my back and, as I went to sit up and look down, I could see the foot had been blown off.
"And immediately I just thought: 'That's it, my life is over, I've lost my leg'."
But he refused to let those thoughts overtake him.
"I was finding it hard to accept what had happened," he said.
"I was lying there and I just said to myself: 'Right, I'm going to put a positive spin on this and I'm going to try to do things that are going to help me instead of hindering me.'
"And from there I just sort of changed my whole outlook on it.
"It's been a long process and by no means has it been easy.
"There've been a few times when I've been down in the dumps, but you have to pick yourself up and get on with it."
On 5 January, almost exactly two years after the attack, Philip will set out on what he believes is going to be the greatest challenge of his life.
He and 14 other injured servicemen are going to compete in motorsport's most demanding race, the Dakar Rally.
Philip explains: "The Paris Dakar is definitely one of the toughest events in the world: 9,000 km of some of the hardest terrain that you can cover in a vehicle.
"And with the sleep deprivation and the physical ability that you need in order to do it, it's going to be tough, it's going to be hard."
So how did he come to be involved in something like this?
"It was actually at Headley Court (a military hospital)," he said.
"A guy that I'd served with in 2008 and who was also hit, told me about the team.
"It was a fledgling team at that time; it had only been running for about three months. He knew that I was into motorsports and he said: 'If you fancy it, come along, meet the team and we'll see how it goes'.
"So that's exactly what I did."
The team is primarily comprised of injured servicemen with some able-bodied servicemen as well.
For the last 18 months, the team have been getting sponsorship ahead of the race.
"It starts in Peru, heads down through Argentina, then into Chile," he said.
"It's going to be absolutely epic."
The team won't win the Dakar. They know that. But being on that start line is a victory in itself and, they hope, will provide a perfect platform for their message.
Philip explains: "The main reason the team was set up... is to change the perception of disability.
"People see a disabled person or they see a person with a limb missing or whatever and they think: 'That's a pity of that fella'.
"But that guy hasn't changed, mentally he hasn't changed.
"He's still motivated and keen to do the things that he always wanted to do; he's just missing a leg or an arm or whatever.
"And that's what it's like with the guys within the team. They're all very positive and driven people. Hopefully, if we change the opinion of one person, then it's all been worthwhile in my eyes."
He said that when soldiers are injured and get rehabilitated they become very motivated people.
"They just don't want to let the injury define who they are," he said.
"They want to push past the injury and say: 'Look, this is me and this is what I want to do'. They don't want to just sit and let life pass them by.
"When I got blown up in Afghanistan, the thoughts that went through my head were just horrible.
"I thought I'd never drive again, I'd never run again, I would never be able to go out to a bar with my friends again, I'd never be able to do the things again that young lads my age do.
"I was wrong completely. With the rehabilitation, and the help that I got in Headley Court, I can do pretty much anything."