Two released over shooting at police officer's house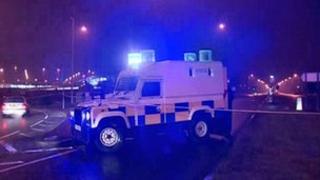 Two men aged 45 and and 52 have been released on bail following a shooting incident at the home of a police officer in Bangor.
It happened in the Springhill area at about 19:30 GMT on Wednesday.
Police said a personal protection weapon was fired. No-one was injured, but the owner of the house received medical attention as a precaution.
Northern Ireland's Police Ombudsman is monitoring developments. At present it is not investigating the incident.