Ex-Alliance Party councillor Adam Harbinson joins DUP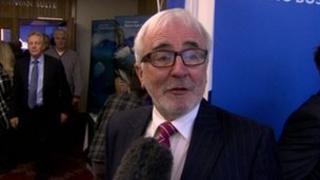 A former North Down Alliance Party councillor has joined the DUP.
Adam Harbinson quit Alliance because of its support for gay marriage. He attended the DUP conference in November.
Mr Harbinson failed to get elected at the last local government election, but was subsequently co-opted onto the council.
When he quit the party, Alliance called for Mr Harbinson to resign his North Down council seat.
DUP leader Peter Robinson said he was "delighted" that Mr Harbinson had joined the party.
"Adam has made his views known about the difficulties he had with Alliance Party policy and that he could not remain a member. I can assure him that he will find a warm welcome in the DUP," he added.
Mr Harbinson said Alliance was "increasingly out of touch with the vast majority of people in Northern Ireland".
In September, the Alliance Party voted in support of legislation to allow gay civil marriage.
Party leader David Ford said the vote followed months of consultation with party members and associations.
He said the proposals included safeguards for religious groups so they would not be forced into allowing their premises to be used.