Man jailed for having Crossmaglen PSNI station bomb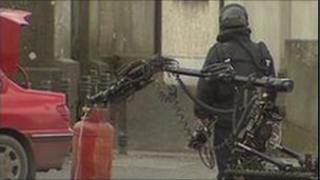 A County Monaghan man has been jailed for three years for having a car bomb left outside Crossmaglen police station.
Paul Maguire admitted the unlawful possession of an improvised explosive device with intent to endanger life or cause serious injury to property.
The device was loaded into a stolen car and left outside the PSNI station where it failed to detonate on 3 April, 2010.
Maguire had a last address at Drumleek South, Castleblayney.
Mr Justice Paul Butler told the Special Criminal Court in Dublin that the court would sentence father-of-one Maguire to nine years with six years suspended, having regard to evidence that the defendant was a "vulnerable and biddable" character.
The 27-year-old is currently serving an 18-month sentence imposed by the non-jury court in March.
He had pleaded guilty to the unlawful possession of a sawn-off, 12-gauge side-by-side shotgun and two 12 gauge Eley shotgun cartridges at Ecco Road, Dundalk, on 8 August, 2010.
Maguire was one of five men arrested after Irish police stopped two cars which had been travelling in convoy and drove up and down past a garage on the Castletown Road near Dundalk, County Louth on the morning of 8 August.
Cylinders
A detective inspector William Hanrahan told counsel for the state that a red Peugeot 406 car with a Republic of Ireland registration was abandoned at the entrance gates of Crossmaglen Police Station on 3 April, 2010.
He said that the PSNI inspected the vehicle using a remote controlled "wheelbarrow" robot and found two gas cylinders, a length of wiring and a car battery.
The police officer agreed that the device was made safe following a controlled explosion.
An explosives expert gave evidence that, had the device functioned as intended, it was capable, at the upper end, of causing death or serious injury to anyone within the blast radius.
He agreed that the device did not explode owing to a defect in the timing unit and an error in the mix of paraffin and diesel fuel contained in the cylinders.
The police officer told the court that Maguire was present at a yard in Culloville where the car was loaded with the bomb and that his role was to fuel a jeep - which was to be used as a getaway car - and to telephone the Samaritans with a bomb warning.
Maguire, he said, did not actually go to the police station.
Counsel for Maguire said a psychiatric report indicated his client was not "ranked in the highest echelons of scholarship", adding that Maguire was a young man who had made "two very large mistakes in life".
Taking the stand, Maguire said he was sorry for what he had done, apologised to the court and said he would not be involved "in any similar organisation" again.
Mr Justice Butler said that Maguire had pleaded guilty to a very serious offence but that there was a lot to be said in his favour.
He said the court had taken all matters into consideration and noted the case could have been prosecuted at an earlier date, which led the court to impose a lower sentence to date from Friday rather than a backdated tariff.