Michaela McAreavey murder: Mauritius police reportedly identify suspect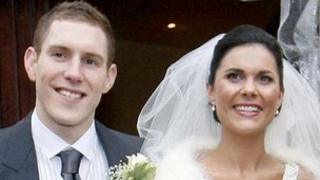 Five months after reopening the investigation into the murder of Michaela McAreavey, police in Mauritius have reportedly identified a suspect.
According to reporter Yasine Mohabuth in Port Louis, the suspect is named in an interim report by the Central Criminal Investigation Department.
The report has already been submitted to the Director of Public Prosecutions.
Mrs McAreavey was murdered in the former Legends Hotel in 2011 while she was on honeymoon.
After the first trial, which ended in July, two hotel workers - Sandip Moneea and Avinash Treebhoowoon - were cleared of murder.
A new investigation was then launched.
Investigators are now waiting for the counsel of the State Law Office before taking a decision on the arrest of the suspect.
It is understood a French expert came to Mauritius about three months ago to collect DNA samples and took them for analysis at the University of Bordeaux's laboratory.
Thirty-eight people were interviewed and 68 witnesses participated in a reconstruction of the circumstances of the murder and 350 samples were sent to a laboratory in France, since the reopening of the investigation last August, according to police.