Christmas dinner of packets of soup and none of the trimmings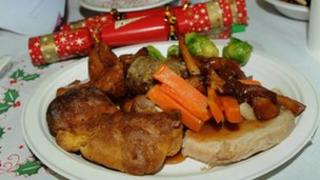 Phyllis Graham from Carryduff, County Down, was not really looking forward to Christmas.
She lives alone and is visually impaired, and to make things worse, she recently broke her arm and it is still in a sling.
Trying to cook a turkey on Christmas Day seemed like a bit more than she could handle.
So she was delighted when a social worker said that a local charity had offered to deliver Christmas dinner with no need to pay them anything.
"I had thought it was kind of these people to deliver this," she said. "I thought perhaps I should respect it, appreciate it and enjoy it."
Powdered
After the delivery Phyllis set about unwrapping it with her good arm.
She took out small individual packs of teabags, jelly babies, a pair of gloves, two crackers, some After Eights, and a packet containing six sachets of chicken soup.
"I turned the wicker basket upside down and there was definitely nothing more in it," she said.
Phyllis did not want to look a gift horse in the mouth, but neither had she really been expecting powdered soup for Christmas dinner.
Although disappointed, and forced to look for whatever was in the freezer, she is keen to point out she survived perfectly well.
And she has some advice for people who are kindly trying to help.
"It would be very important to let people know what they are getting when things are handed over," she said.
She is now wondering if the whole thing was a mistake, and she got something intended for someone else who simply needed a nice gift.
"If it had been a little bit of ham or a spoonful of peas, I'd have been very pleased."
And she adds, with a grin: "I've lived, I've survived, and maybe the waistband is a little less tight."