1982 in Northern Ireland: Violence continues, unemployment grows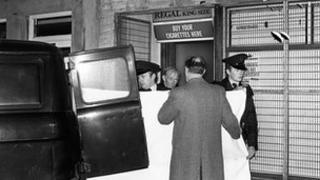 Northern Ireland began 1982 with a continuation of the violence that had marked the previous year.
On 29 January, the well-known loyalist, John McKeague was shot dead in his Belfast shop by the INLA.
Against a background of 20% unemployment and serious blackspots in west Belfast, Londonderry and Strabane, the much-vaunted De Lorean sports car company in Dunmurry closed in May with 1500 workers laid off.
At the same time a confidential British government memo admitted that the Harland and Wolff shipyard, with 7,000 workers, was not viable but found sound political reasons for sustaining it.
The year saw the emergence of republican and loyalist supergrasses who were offered legal immunity in exchange for providing evidence against their fellow paramilitaries.
To counter their activities the IRA resorted to kidnapping spouses and relatives.
In April 1982 the Thatcher government published its White Paper on Northern Ireland.
Secretary of State James Prior proposed elections for a devolved assembly conducted by proportional representation.
His scheme, known as 'rolling devolution', envisaged devolving powers gradually to a new legislature.
Despite Prior's enthusiasm, the scheme had few supporters in the British cabinet and was firmly rejected by the SDLP as falling far short of power-sharing with a meaningful Irish dimension.
After considering a boycott, the SDLP contested the elections in October 1982. The result was a clear majority for the UUP and DUP, now almost equally balanced, with Sinn Fein winning five seats and 10% of the vote on its first electoral outing.
In April 1982, Mrs Thatcher's declaration of war on Argentina for occupying the Falklands saw a downturn in Anglo-Irish relations.
The neutrality of the Irish government of Charles J Haughey in the conflict earned him Mrs Thatcher's lasting hostility.
Violence continued over the summer with two IRA bombs in London killing eight soldiers.
The end of the year was dominated by nationalist charges of a 'shoot to kill' policy by the RUC following a spate of controversial incidents in County Armagh in which six men died, five of them shot dead at police checkpoints.
An angry John Hume told Prior in December 1982 that the security forces had lowered themselves to the same level as the paramilitaries.
On December 6, 1982, 12 soldiers and five civilians died when the INLA bombed the Droppin' Well disco at Ballykelly, County Londonderry.
The same year saw the legalisation of homosexuality in the province following the ruling of the European Court in the case of Belfast man, Jeff Dudgeon.
The death toll in the year's violence was 97 including 57 civilians, 21 soldiers and 19 RUC/UDR.