British government had several strategies to end 1981 hunger strike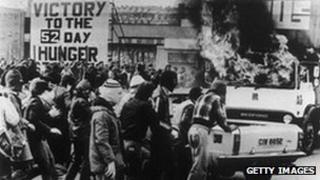 Several strategies were considered by the government for ending the 1981 republican hunger strike at the Maze Prison, short of granting the prisoners their five demands.
Government intervention to force individual hunger strikers to capitulate was proposed.
The possibility of feeding the hunger strikers intravenously was also suggested.
The details are in newly-released Public Record Office NI files.
In a memo circulated to colleagues on 1 June, 1981, senior Northern Ireland Office official R A Harrington recalled that at an earlier meeting with officials, SDLP MP John Hume had described the parents of the Londonderry hunger striker, Kevin Lynch as "typical decent anti-IRA people" who would "do almost anything" to prevent their son's death.
Mr Harrington said the government now faced a "lull in the campaign".
In his view, "capitulation (i.e. a decision to take food) by one of the hunger strikers would be of enormous value to us, not just in itself but because of the great disarray into which the PIRA propaganda effort would be thrown".
Mr Harrington asked if there was any possibility of using all the resources available to the government "to identify the best candidate for capitulation and then go to some lengths to organise pressure on him … before his condition becomes critical".
'Drugging'
He suggested that they might select a hospital officer or assistant governor to befriend the prisoner concerned and cultivate a relationship with him with a view to persuading him to end his protest.
It might be possible, he argued, to engage the Catholic Church, "possibly with the help of Bishop Philbin", to bring further pressure to bear on the prisoner and his family.
The issue of government intervention was raised a month later, on 29 June, 1981 by the Lord Privy Seal, Sir Ian Gilmour, in a letter to NI Secretary of State, Humphrey Atkins.
Mr Gilmour suggested the possibility of feeding the hunger strikers intravenously.
In his view, "any more deaths would do great damage both in Ireland and abroad, with consequences that cannot be fully foreseen".
The minister's suggestion, however, did not play well with senior officials who concluded that this would require drugging hunger-strikers which would be "unthinkable".
The hunger strike finally ended on 3 October, 1981, after the deaths of 10 protesters and many more deaths on the streets.