Stronge double murder detailed in government files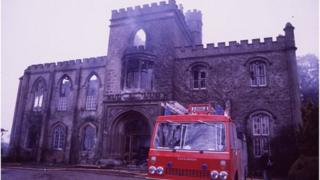 The murders of Sir Norman Stronge, 87, the former Stormont Speaker and his son, James, a leading unionist and part-time RUC officer are detailed in confidential files newly released in Belfast.
The two men were killed at their home, Tynan Abbey on the border in County Armagh in 1981.
A background paper for the Minister of State at the NIO, Michael Alison on 25 February, records that on the night of 21 January, an armed gang of ten men crossed the border, hijacked two vehicles and went to the isolated mansion where they murdered Sir Norman and his son.
They then bombed the Abbey before escaping.
Following the double murder, the Provisional IRA claimed responsibility, stating that it was a reprisal for recent attacks by Loyalists on Republicans.
Over the previous six weeks, four leading republicans had been murdered while, just a few days earlier, civil rights activist Mrs Bernadette McAliskey and her husband had been badly wounded.
In a memo on the file, dated 12 February, 1981, C Devenport, an NIO official, noted that during Question Time at Westminster, Rev Ian Paisley had asked the Secretary of State, Humphrey Atkins to confirm or deny that the Army patrol detailed to observe Tynan Abbey on the fatal night was 'being wined and dined in a well-known republican house in the area'.
Devenport informed Alison that, since Dr Paisley's assertion, the Ulster Unionist MP, Harold McCusker had written to the Secretary of State that the DUP leader's allegation of 'wining and dining' might have been based on a rumour that soldiers who were supposed to be defending the area 'had, in fact, been drinking in Hughes' Hotel, Middletown (South Armagh).'
The military had investigated this allegation and 'flatly denied it'.