British favoured closing Aghalane Bridge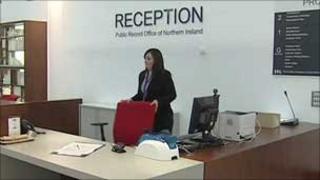 The British security forces had no desire to see the reopening of the Aghalane Bridge, a major link between Northern Ireland and the Irish Republic, according to newly-released documents from the Public Record Office in Belfast.
The bridge on the main Enniskillen to Cavan road was blown up in November 1972, prompting a letter from the local Nationalist MP, John Carron, to Lord Windlesham, Minister of State at the Northern Ireland Office.
Mr Carron said that the cross-border bridge served the whole western side of Northern Ireland.
He said its closure would hit "the only source of employment in the area, mainly local sand and gravel companies which traded with the Republic".
In a note for the minister on 12 December, 1972, an official, W J Foster, referred to the "political aspect" of the issue.
"The Protestant community of this area are in constant fear of raiders from across the border," he said.
"They have already suffered loss of life and damage to property.
"Irrespective of who destroyed the bridge, … they will view its restoration with suspicion."
This was likely to be shared by the (unionist-controlled) Fermanagh County Council which was unlikely to wish to repair the bridge.
However, if the official view favoured its restoration, he suggested seeking Irish Army agreement to erect a Bailey bridge over the border at Aghalane.
Bomb
Subsequently, the issue was raised by Lord Kilbracken, an Irish peer in the House of Lords.
In the end, the road was reopened when a temporary bridge was erected from the County Cavan side.
However, later in December, 1972, a bomb exploded in nearby Belturbet, County Cavan, killing two teenagers, Geraldine O'Reilly and Patrick Stanley.
Captain John Brooke, unionist Chief Whip and Chairman of Fermanagh County Council blamed Lord Kilbracken and Cavan County Council for the deaths.
He alleged that they had "reopened the bridge", thereby giving "easy access for terrorists".
It is clear from the file that the security forces in Northern Ireland had no desire to see the cross-border road reopened.
On 27 December, 1972, Lieutenant-Colonel A T P Millen had noted that "the destruction" of Aghalane Bridge "suits us well in that it closes a route frequently used by Republic-based terrorists".
The temporary bridge was subsequently blown up, closing the main Enniskillen-Dublin road for several decades.