Les Miserables: Fra Fee on his role in the upcoming blockbuster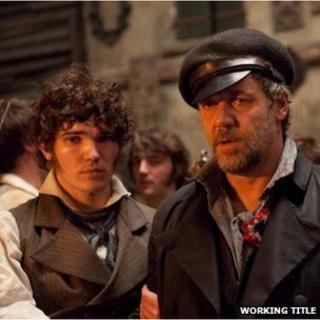 In the gathering gloom of a late December afternoon, I found myself outside a pretty, well-kept house in the remote rural heart of County Tyrone.
I couldn't see a number, but I knew I had to be close so I knocked the front door.
The moment it was opened, I had no doubt I was in the right place. I would have to knock a lot of doors across this county to find another man who looked quite as much like a movie star as the one now standing in front of me.
Fra Fee has matinee idol looks, charm and an easy elegance. Star quality you might say.
But in response to my first question - how did he make it from Killyman to rubbing shoulders with the movie world's A-listers - his answer was instant and assured: "Hard work and the support of my family."
"I sort of decided I wanted to perform from a very young age and they were incredibly supportive of that and nurtured my desires to go on stage and become an actor."
It was while he was appearing in the stage version of Les Miserables in London's west end that Fra first came to the notice of the team behind the movie.
"Six months into the contract I was given the opportunity to audition for the movie," he said. "It was an audition with Tom Hooper, the Oscar-winning director of The King's Speech, and after a gruelling audition process I was very fortunate to be cast as Courfeyrac who is one of the revolutionary students. And it was just incredible."
"Awe-inspiring"
He was one of only two people to make it from the stage show into the movie.
"I was incredibly fortunate that Tom very much wanted me in the movie," he said.
"They let me out of the stage show for about six weeks to do filming, so I count myself as very, very blessed to have had that opportunity."
When I asked how he had found working with Tom Hooper, his face lit up with admiration.
"I found him an absolute inspiration," he said. "It was completely awe-inspiring to see his vision and he very much knew exactly what he wanted. I think the man's a genius and you'll see when you see the movie; it's so beautifully crafted.
"At first it was a wee bit intimidating because I loved The King's Speech, I thought it was an absolutely brilliant piece of work. But we got on - he worked us really hard - but it was just an incredible opportunity to work with someone like that.
"I was always a stage actor and that's what I've been doing so far and it's a very different style of performance on screen. With close-ups, you don't really have to do very much; it's all about the truth and subtle performances and that was something I could relate to.
"And, if the opportunity came, I'd love to do more screen work. I love the fact that movie musicals are becoming so popular. And this style - the way that Tom has directed it - with live singing on set, it's a lot more truthful; it's not a glossy musical in any sense so I'd certainly like to be involved in more. Musicals are so extraordinary because the subject matter is so elevated. A character decides to sing for a particular reason - because the emotion is so high."
Anne Hathaway
So what about his fellow actors - the big names who've been grabbing headlines across the world?
"Well, I do quite a bit with Russell Crowe.," he said. "I shared quite a few scenes with him. The man's amazing. He totally knows his craft. Talk about being an absolute beginner in terms of screen work and to be learning from people like that. And Hugh Jackman as well.
"Anne Hathaway gives a sensational performance. But I really love what Eddie Redmayne did. He's a really intellectual actor who very much thinks through what he wants to achieve and I admired that in a great way."
Fra saw the movie at its premiere in London three weeks ago. "It was really, really incredible," he said. "It was very surreal because I sort of come into the story maybe three quarters of the way through so to see the story happen with Hugh Jackman's character and Anne Hathaway's and my segment comes in later on, so to see it all in context in that huge, epic story was really incredible.
"At this stage, I'm just excited for my friends and family to see it. I feel as if they've had to wait a long time. I saw it about three weeks ago and they don't get to see it until January 11."