Anthony McDonnell in court on terrorist charges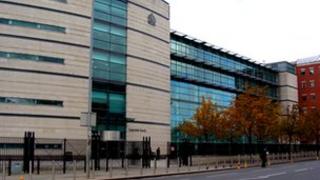 A man has appeared in court charged with possessing information likely to be of use to terrorists.
Anthony McDonnell, 43, from Upper Springfield Road, west Belfast, is accused of collecting five vehicle registrations, between October 1 and December 12 last year.
He was also charged with having addresses and vehicle registration details of security force members on 14 December 2012.
He was remanded in custody.
Mr McDonnell was arrested on Thursday as part of a PSNI investigation into dissident republican terrorism.
Appearing in Belfast Magistrates Court on Saturday, the 43-year-old spoke only to confirm that he understood the two charges against him.
Det Con Graham told the court he believed he could connect him to the charges and under cross-examination from solicitor Philip Breen, confirmed that since the searches before Christmas, numerous items including computer storage media were being examined as part of a "forensic strategy" in the "live" investigation.
The officer told the court and Mr Breen that by the time the case is next before the court on 31 January, the PSNI would endeavour to have a timetable for the results of the examinations.