SDLP councillor Claire Hanna's home attacked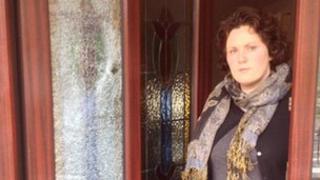 Police are investigating an attack on an SDLP councillor's home in Belfast.
Councillor Claire Hanna was out with her husband and baby daughter when the attack happened.
Seven shots from what appears to have been a ball-bearing gun were fired at the front windows and door of the property in the south of the city.
Mrs Hanna said those behind the attack had shown "utter contempt" for her young family.
"This was an attack on my, and the SDLP's, right to represent and speak out for a better Belfast and reconciled Northern Ireland," she said.
SDLP leader Alasdair McDonnell, also condemned the attack.
"Unionist political leaders and those organising illegal protests need to take full responsibility for this attack on a hard working and popular councillor," he said.
"Claire Hanna works hard to build true reconciliation in our city. Those who attacked her home are showing contempt for democracy and her electoral mandate, and have put her young family in danger."
Cllr Hanna, who chairs the East Belfast Policing and Community Safety Partnership, said she would not be intimidated by "fascist elements with no respect for democracy".
"The last number of weeks have been disturbing for those of us who aspire to a genuinely shared future, and to the principle that all here can be British, Irish or both as they so choose," she added.
"This attack won't stop me working to promote core SDLP values of partnership, equality and mutual respect."
Homes, offices, and businesses of several Alliance members have been targeted since Belfast city councillors voted on 3 December to limit the flying of the union flag at city hall to designated days instead of all year round.
Alliance, Sinn Fein and SDLP councillors voted to limit the flying of the flag while the DUP and Ulster Unionists opposed the move.
Protests have been held across Northern Ireland since the vote - some of them have erupted into violence.
Fifty-two police officers have been injured in violence linked to the demonstrations and 70 people have been arrested, 45 of whom have been charged with public order offences.
A number of Northern Ireland politicians have also received death threats.