NI riots make headlines across globe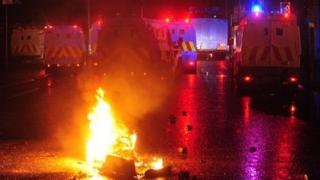 The flag protests in Northern Ireland started in the last month of 2012 - and have made headlines around the world.
Some protests passed off without incident, but others have been followed by street riots and attacks on the police.
Now 36 days later, and eight days into a new year, Northern Ireland is still at the top of the international news agenda - for all the wrong reasons.
2013 is a year that sees Londonderry/Derry become the UK's first City of Culture, the G8 Summit being held in Fermanagh and the World Police and Fire Games being held in Belfast.
But the pictures beamed around the world could give the impression that Belfast is still in the grip of violence.
The violence, mainly in east Belfast, was the top story on Sky News Australia, with many ex-patriates commenting about the unrest on social media sites.
The Australian newspaper had the headline: "Plastic bullets used in fifth night of Northern Ireland violence."
Australian ABC showed a picture of riot police accompanied by the caption: "Police in riot gear march behind loyalist protesters after a demonstration outside City Hall in Belfast, Northern Ireland on January 5, 2013."
The Sydney Morning Herald had the headline: "Belfast flag dispute escalates into a bigger movement".
Meanwhile, Nic Robertson, a senior international correspondent with CNN, tried to explain what was going on to an international audience.
He said: "In one point in December there were 80 different protests across the country. The fact that they haven't subsided over the past month or so is an indication they can get worse.
"There is the thought that while you have this Protestant/loyalist upsurge in anger, there will be a republican backlash."
Television in America, New Zealand and Canada relayed pictures of the violence and foreign journalists could be spotted alongside seasoned Northern Ireland reporters in troubled spots.
Even reporters from CBBC's Newsround took up residence in the BBC's Belfast newsroom to try to explain the flags dispute to a young audience.
In another continent, Northern Ireland was near the top of the news agenda.
The Times of India said the violence was "some of the worst in the British-controlled province since a 1998 peace deal ended 30 years of conflict."
One man commenting on that article said: "Northern Ireland should unite with Ireland as should two Kashmirs unite, as should two China's, as should two Koreas and as did two Germanys. It is inevitable. It is only a matter of time. Force, brutality, coercion, oppression can not keep people divided."
Meanwhile, "Cops hurt in N.Ireland flag clashes" was the headline as far away as IoL news in South Africa.
Arabic media station Al Jazeera covered what it refers to as Belfast's "Bumpy road to peace" alongside such stories as the fierce, forest fires in Australia.
Jonah Hull wrote: "The flag issue is anything but sorted. The loyalist community, particularly in the poorer areas, is deeply aggrieved. It is, as one man told me, the last straw.
"Many in impoverished ghettos of the city feel left out and left behind by the peace process that they see as taking away far more than it gives back."
French publication Le Monde had an article about the rioting underneath a picture of burning debris on a Belfast street, while video footage of the riots also featured on Catalunya television in Spain.
The Buenos Aires Herald in Argentina had the headline: "Violence in N. Ireland for third day in flag riot".
The Russian news channel, RT.com, also carried stories about the nights of rioting and many pictures of protests and rioting.
It said: "Some say the flag riots are a vivid indication of growing tensions between Catholic republicans, who seek reunion with Ireland, and Protestant loyalists, who want to remain under British control."
In the UK, Henry McDonald of The Guardian wrote: "A loyalist working class and underclass disconnected from the mainstream unionist parties has established a movement that has focused grievances ranging from social deprivation to the alleged maltreatment of unionist victims of Northern Ireland's Troubles."
Peter Geoghegan of The Scotsman wrote that almost 15 years on from the Good Friday Agreement Stormont was "arguably more divided than ever".
"The rioters are mainly young men from working class neighbourhoods where levels of educational attainment are as dismal as turnout at elections. Many are sampling loyalist street politics for the first time. Let's hope they don't acquire a taste for it."
Twitter
The flags issue had also taken Twitter by storm.
Comedian Jake O'Kane tweeted: "Water cannon, petrol bombs and injured police. Well, that's cost us millions in tourism this summer. 'Our time, some other place'".
TV sports reporter Jason Gallagher said: "The news that many tourists are cancelling their trips to Northern Ireland because of the flag trouble is very sad."
Neil Smith tweeted from London: "How can a simple flag cause so much trouble?"
Loz from the Republic of Ireland tweeted: "Ireland will you ever stop living in the past & Belfast riots over a flag, I mean really, what is wrong with you!
Tooting baby from London: "Am sad for all the people in Norn Ireland who have so much more to say & do than this flag nonsense."
Dr Bruce Hoag from Italy: "Put the Union Jack back up in Belfast, and use the army to round up those who think that democracy begins with anarchy."