National Trust's judicial review over golf resort gets under way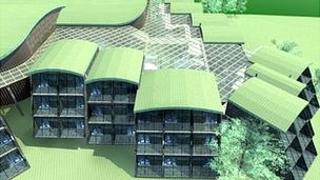 A judicial review into the decision to grant planning approval for a £100m golf resort near the Giants Causeway begins on Wednesday.
The objection is being brought by the National Trust who are trying to block the north Antrim development.
It is almost a year since Environment Minister Alex Atwood gave planning approval.
The proposed complex would include a championship links golf course as well a five-star 120-bedroom hotel.
The National Trust - which owns the Causeway - is opposed to the resort because of its proximity to the world heritage site.
It has brought the judicial review to try and have the Mr Attwood's decision overturned.
The hearing before Mr Justice Weatherup in Belfast's High Court is expected to last until Friday, although it could be up to 12-weeks before the outcome is known.
Previously the developer accused the trust of attempting to delay the project which, which its says is central to the executive's objective of promoting Northern Ireland's tourism offering on the world stage.
"The Bushmills Dunes development will provide a much-needed piece of world class tourism infrastructure on the North Antrim Coast. It not only has the strong support of the Northern Ireland Tourist Board, but also enjoys unanimous cross party political support," a spokesman said.
He added: "We have been working in very close partnership with land owners and the executive's environmental agencies for many years to ensure all protective measures are in place. "
The National Trust has previously said it is not opposed to golf or development, but is trying to protect the UNESCO designation of the Giants Causeway as a World Heritage Site.
It says the development falls within the four kilometre exclusion zone UNESCO has placed around the famous stones.