New university cancer centre will benefit patients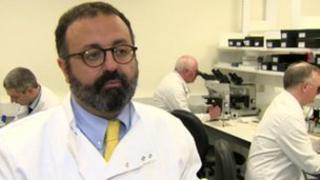 Thousands of cancer patients in Northern Ireland are set to benefit from the opening of a new laboratory at Queen's University in Belfast.
The facility combines research and diagnoses for patients and is the first of its kind in the UK and Ireland.
The opening of the lab means Northern Ireland is moving away from a one-size fits all approach to cancer treatment.
The lead researcher, Professor Manuel Salto-Tellez said it would mean better outcomes for patients.
"It is actually already helping patients because we are analysing the molecular basis of their cancers to decide on new treatment options, so it's a win-win situation," he said.
Working under one roof, oncologists will be able to examine, research and diagnose tumours therefore providing a more individually tailored treatment for each patient.
The facility is a partnership between Queen's Centre for Cancer Research and Cell Biology and Belfast Health Trust.
At the opening of the new centre, Health Minister Edwin Poots said the combination of molecular pathology services and the NI Biobank were "driving best practice in cancer care".
"They are a demonstration of our shared commitment to providing the best possible, research-led services for patients. The remarkable pace of these developments is helping to ensure that we stay at the clinical and scientific forefront," he said.
He added that as well as the benefit to patients in Northern Ireland, "success on this scale also has a global impact on the diagnosis and treatment of illness".