Belfast businessman suspends rates payment over trouble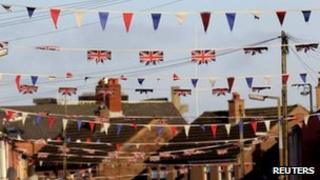 A Belfast businessman has said that he has suspended paying his rates because of how the council has handled the union flag issue.
There have been protests, some violent, since the council decided to fly the flag only on designated days.
Andrew Watson runs a men's clothing shop and wants traders to have a rates holiday to compensate them for the fall-off in business.
He said that trade was down about 50% in the run up to Christmas 2012.
"Trade has been decimated as a result of the marches and the trouble," he said.
"In the three Saturdays before Christmas, trade was down at least 50% on what was anticipated."
Mr Watson said that he would be suspending his payment of rates for January, about £2,500.
He said that he blamed the council because "rightly or wrongly" it had made the decision which sparked the unrest.
"I do realise that the money will probably have to be paid, but in my own small way this is my protest," he added.
He said that the council should give retailers a rates holiday for January, February and March to "help businesses get back on their feet".
DUP councillor Christopher Stalford, from the council's Development Committee, said that unless there was a service that was not being provided, Mr Watson would not have a case for withholding his rates.
He said that his party wanted to see a cut in rates next year to help businesses and would be proposing this.
"I think that the council has a responsibility to encourage trade and bring people into the city and there is probably an argument that we could be doing more," he said.
"I don't think the council would be able to freeze rates for three months, but there would be more benefit for a cut over a year."