NI union flag violence 'threatening jobs' says Villiers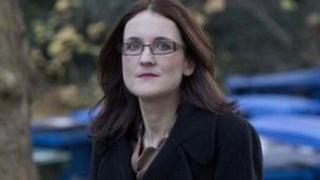 The riots linked to flag protests in Northern Ireland are causing "significant damage" to the economy, the secretary of state has warned.
Theresa Villiers said the "negative images" were "threatening jobs".
The union flag is flying at Belfast City Hall for the first time since street protests began, sparked by a decision to only fly the flag on designated days.
Ms Villiers urged politicians to find a way forward.
She described the violence as "appalling".
"Those who have been trying to bring Northern Ireland to a standstill need to take a long, hard look at what it is they think they're achieving," she said.
"I can understand that feelings run high when it comes to issues on flags, particularly in Northern Ireland where questions of identity remain so sensitive.
"But nothing can excuse the scenes we have witnessed, with over 60 police officers injured."
Ms Villiers said it was "incomprehensible" to express patriotism and support for the union by "hurling bricks and petrol bombs at police".
"These violent protesters are damaging the cause they claim to support," she said.
Her comments comes a day after police were attacked with petrol bombs and fireworks for a sixth consecutive night in east Belfast.
The campaign of street demonstrations started after Belfast councillors voted on 3 December to limit the number of days the union flag flies over Belfast City Hall.
Some of the protests have been violent and resulted in more than 100 people being arrested and dozens of police officers sustaining injuries.
The cost of policing the flag protests is believed to be more than £7m.
The flag was raised on Wednesday to mark the Duchess of Cambridge's birthday, but will be taken down again in the evening and loyalists have made it clear they will continue their protests.
Their central demand is for the decision to be reversed but the political make up of the council means there is little chance of that happening.
Although the union flag is flying over Belfast City Hall, it has not been raised over Parliament Buildings, Stormont.
This is because Stormont is governed by the Flags (NI) Order 2000 whereas Belfast City Council adopted the designated days as set out by the Department for Culture, Media and Sport in Westminster.