Protests, riots, petrol bombs... but life goes on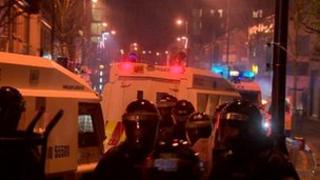 The recent union flag controversy has meant some areas of Belfast are regularly convulsed by protests and rioting, but in the rest of the city and across Northern Ireland, life is ticking over.
As media images of protests and riots, petrol bombs and masked teenagers throwing stones are projected across the world, most of Northern Ireland is getting on with the everyday.
For many people living in east Belfast, life has become a nightmare marked by the fear of a brick smashing through a car window or a hijacking.
Parents speak of young children unable to sleep at night as stones and bricks bang off pavements outside. Those with teenagers say they are afraid to let them go out.
Traditional flashpoints between nationalist and loyalist communities on the Lower Newtownards Road and Albertbridge Road have seen an upsurge in violence.
Across Northern Ireland, members of several political parties have received death threats, bullets have been sent in the post, people's homes and businesses have been attacked.
City businesses are counting the cost. The Confederation of British Industry says nearly 40 days of union flag protests have cost businesses in Belfast up to £15m.
But while this is a nightmare for some, for the majority in the city, the protests and violence are essentially a headache leading to delays on their daily commute to work.
Across Northern Ireland, there have been protests but most have been been without incident.
Below, BBC journalists give a flavour of how the flags issue has affected life on their patch of Northern Ireland.
COUNTY LONDONDERRY - Keiron Tourish
In the north-west, most people are going about their daily business unaffected by the flag protests. In Londonderry, which has a population of just over 100,000 and is Northern Ireland's second largest city, there has been some disruption when protestors block roads for a short time, usually around tea-time. The protests have been relatively small in number.
Apart from one loyalist protest in December when police were attacked by stone throwers, the protests overall have been without incident.
At one of the largest gatherings before Christmas, several hundred loyalists carrying union flags of all shapes and sizes, marched over the new peace bridge in Derry from the Waterside and tried to gain access to the city centre. But they were stopped by police in riot gear. After negotiation, a small number were allowed to walk in and around the city centre for a short time.
On Wednesday night, loyalists gathered outside the new office of Sinn Fein MEP Martina Anderson on Spencer Road in the Waterside. Some were singing the old civil rights anthem We Shall Not Be Moved. They said their campaign was not solely about the flags issue.
One protestor told the BBC: "We're protesting here because of the opening of the Sinn Féin European Office. It's not just a matter of an office, it's a furtherance of their foothold, both symbolically and physically, in the Waterside. There have been 40 plus years of ethnic cleansing in the cityside and it's just a furtherance of that."
So far, unlike in Belfast, business leaders in Derry have not reported any major impact on trade but there is concern about the perception of how Northern Ireland is now viewed from the outside world.
This comes at a time when Derry, which is mainly nationalist or Catholic, has largely embraced the awarding of the first ever UK City of Culture title. In 2013, the city will host major cultural events celebrating music, theatre, song and dance including the Royal Ballet, Turner Prize and the All-Ireland Fleadh.
More than 1m people are expected to visit and, in their bid, the organisers stressed that Derry-Londonderry had a new story to tell.
COUNTY ANTRIM - Ciara Riddell
Flag protests have taken place in Newtownabbey and Carrickfergus. Both are councils where unionists are in the majority and the union flag flies on council offices 365 days a year. Apart from Belfast, some towns in County Antrim have seen some of the worst violence.
In November the office of East Antrim Alliance MLA Stewart Dickson was attacked by protesters who then attempted to set it alight. On 17 December a committee meeting taking place in Carrickfergus Town Hall was interrupted after a group of protesters stormed the council chamber. They shouted abuse at the 15 councillors taking part but singled out Alliance councillor Sean Neeson for particularly vicious sectarian abuse.
In December, a riot began after protesters swamped Mossley Mill in Newtownabbey where the DUP mayor was hosting a Christmas event. A car was set alight.
It later emerged that his party colleague Mayor of Larne Gerardine Mulvenna had to leave her home after threats were made against her.
COUNTY ARMAGH - Gordon Adair
Fifteen years ago, County Armagh - in particular the town of Portadown - was the centre of a dispute that led to loyalist protests, riots and civil disobedience on a scale that completely dwarfs the current trouble.
The Drumcree protest rumbles on to this day, but is a much less low-key way. When it was at its peak, it became very difficult for people across the county - and beyond - to go about their daily business. Roads were blocked, town centres closed down, the police and army were stretched close to breaking point.
By contrast, the current flag dispute goes almost unnoticed by the vast majority of people. There have been protests here; the main road through Portadown, known as the Northway, has been closed briefly, but the impact has been small.
COUNTY DOWN - Francis Gorman
A businessman from Kilcoo, south Down, describes his commute to Belfast and the impact of the flags protests.
"I suppose in terms of commuting the impact has been minimal. There seems to be very few protests affecting the south of Belfast and certainly heading towards where I live they would be non-existent. The traffic is a lot lighter than normal. I put that down to many people who could get caught up in the traffic getting off work early and I really have noticed that has been the case since the protests started in December.
"I think my commute to south Down is a little bit quicker particularly if some days word is going around that there are going to be protests. You tend to notice that some of the roads are fairly light.
"It's meant that we, as a family, decided not to come to Belfast over Christmas with the children to see the lights or visit the Christmas market. I didn't want to bring my children into that atmosphere to get caught up in traffic or protests or worse.
"People are definitely leaving work early. My own employer feels a sense of responsibility towards staff and on days where we have known about significant protests we have left work early. That is bound to have an impact on output. It will definitely cost businesses money.
COUNTY FERMANAGH - Julian Fowler
In Enniskillen, some 90 miles from Belfast, there have been a number of small, peaceful flag protests outside the town hall.
The union flag has not flown above the building for about 20 years, but no-one seemed to have taken much notice until the current dispute in Belfast.
Many people in Fermanagh are concerned at the disruption being caused to business and to Northern Ireland's reputation in a county that relies heavily on tourism.
Enniskillen will always be associated with one of the worst atrocities of the Troubles - it is now 25 years since the Poppy Day Bomb when the IRA killed 11 people at the war memorial on Remembrance Sunday in 1987.
Community relations in the town are now strong and these were reinforced by the Queen's visit to the town as part of her Diamond Jubilee when she walked across the road from St Macartin's Church of Ireland Cathedral to St Michael's Catholic Church.
While some may share the frustrations of the flag protesters in Belfast, the violence has been universally condemned.
COUNTY TYRONE - Louise Cullen
Around Tyrone, the flag protests in Belfast are raising only eyebrows, not tempers. Business people say things are tough already without adding public disorder into the mix. There have been some minor protests - one politician said that peaceful protesting was a hard-won right but violence was never an answer.
There were some scenes of disorder in Cookstown last month, when a local MLA observing a protest was shouted at. In Cookstown itself, some flags have been put up, but then again, in one part of the town at least, there are always flags on display.
Along the major road heading west, the A4, a noticeable number of union flags have been attached to street lamps and fly-overs. This is geographically the largest county in Northern Ireland, but with a sparse population of 166,516 (according to the 2001 census). Of that, just over 100,000 are Catholic and fewer than 50,000 Protestant.
While political affiliation does not go hand-in-hand with religion, it is perhaps not surprising that there have been few protests in Tyrone and little tolerance for the violent scenes in Belfast.