Union flag protests cost Belfast businesses £15m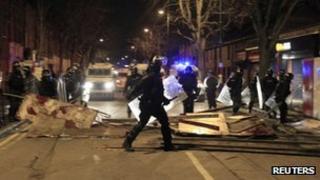 Nearly 40 days of union flag protests have cost businesses in Belfast up to £15m, the Confederation of British Industry has said.
Nigel Smyth, of the CBI in Northern Ireland, said protests were putting people off from coming to the city.
"The solution to this is not throwing bricks and having riots," he said.
The Unionist Forum, set up by DUP leader Peter Robinson and UUP leader Mike Nesbitt has had its first meeting to address the protests.
Mr Smyth said the estimated cost to businesses in the city from the protests was between £10m and £15m, but there could be additional economic damage from discouraging potential tourists and investors.
"There is the localised impact on local traders, shops and pubs, hotels depending on their area - this is very localised trouble," he said.
"But in the run up to Christmas there were demonstrations in the city centre on the Saturdays, a peak period for traders and takings were down by about 40%.
"The bigger strategic area of concern is perception. Northern Ireland is recovering from 30 years of the troubles, we have moved on significantly, but we are now seeing very negative images going around the world and the impact that will potentially have on tourists coming to Northern Ireland or people wanting to invest in Northern Ireland."
The Northern Ireland secretary of state has said riots linked to the protests were causing "significant damage" to the economy.
Theresa Villiers said the "negative images" were "threatening jobs".
Emma Bricknell who owns the restaurant Made in Belfast in the city centre said there had been a "huge impact" and estimated her losses at more than £20,000.
"Locals don't want to come in, they are scared and nervous about whether they will be able to get home," she said.
"Tourists are finding it very hard to get in to us because the police won't let them go down.
"If I were coming from Barcelona or even other parts of the UK and the police are stopping you from getting down an alley way why would you carry on walking down? It's quite fearsome, they are carrying guns and have armour.
"To me they are actively helping protesters close down the city centre."
She said that on Monday there were no customers at all in her restaurant.
"We had a lot of people coming from HBO, from the Titanic Quarter where they are making Game of Thrones, but they are not coming down any more to eat," she added.
"These are people who are putting millions of pounds into the industry here, are these companies going to stay or go somewhere else. It's having such a big impact on society here."
The cost of policing the protests is believed to be more than £7m and 66 officers have been injured.
Flag protests took place in Belfast and Londonderry on Wednesday evening, but there were no reports of any trouble.