Theresa Villiers calls for 'bold moves' over flag tensions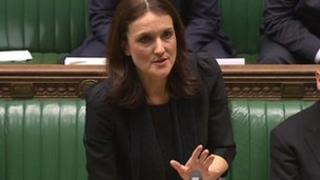 Northern Ireland's political leaders have 'fixed tougher problems' than unrest over the union flag, Secretary of State Theresa Villiers has said.
She urged them to take "bold moves" to ease tensions.
"Northern Ireland's political leaders have already shown themselves capable of taking difficult decisions in order to make progress on many matters.
"The stability delivered by the Belfast Agreement should never be taken for granted," she said.
"For some, sectarian divisions remain deeply entrenched and it's time for bold moves by Northern Ireland's political leadership to address them.
'Dishonouring'
"They have fixed tougher problems than the ones we face today. I believe they can rise to the challenge as they have to so many others in the last few decades."
Ms Villiers told the House of Commons 66 police officers had been injured since violence first flared up following the decision to restrict the flying of the union flag at Belfast City Hall.
She said the Police Service of Northern Ireland's Chief Constable Matt Baggott believed senior members of the Ulster Volunteer Force (UVF) had been involved in orchestrating the violence, but without the authority of the group's leadership.
Condemning those involved in the unrest she said: "The idea that hurling bricks at police officers is somehow defending the union flag or protecting Britishness is incomprehensible.
"These people are not defending our national flag, they are dishonouring our national flag and our country.
"What's more they are being reckless with the peace process and all it has delivered.
Ms Villiers said the peace process had improved the image of Northern Ireland and stimulated investment, but the violence was putting this at risk.
She said: "Huge efforts have been made in recent years to project a modern, confident, outward-looking Northern Ireland that's a great place to do business.
"But the pictures beaming round the world of riots and disorder make it far, far harder to compete in the global race for inward investment.
"Jobs and livelihoods are under threat so it is essential that these protests and this violence stops now."
Shadow Northern Ireland secretary Vernon Coaker joined in condemning the "disgraceful violence".
He said: "This violence would not be acceptable in London, it would not be acceptable in Cardiff, it would not be acceptable in Edinburgh, and indeed it is not acceptable in Belfast."