Giant's Causeway golf row: Guidelines 'don't apply'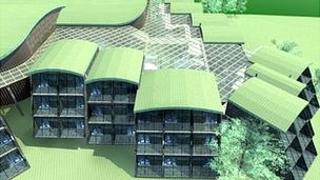 World heritage authority guidelines have no standing in UK law, a hearing into the granting of planning permission for a golf course close to the Giant's Causeway has heard.
The National Trust wants a judicial review of a decision to give the green light for a golf complex.
A five-star 120 bedroom hotel and 75 villas are to be built at Runkerry close to the World Heritage site.
Environment Minister Alex Attwood granted planning permission last year.
Counsel for the Department of the Environment also argued that proper notification about the proposed scheme was given more than two years ago.
The National Trust is seeking to block development of a championship links golf course,
A judge was told that Mr Attwood acted unreasonably and irrationally in granting planning permission last February.
The minister was also accused of second-guessing the views of Unesco by allegedly failing to properly consult them before taking his decision.
But David Elvin QC, responding on behalf of the department, claimed there was a fundamental difficulty at the heart of the trust's case.
He contended that neither the World Heritage Convention nor its guidelines have any legal force in the proceedings because they have not been incorporated into domestic law.
"Absent of that, my learned friend's case on the Unesco point collapses," he said.
"No enforceable rights in national law can flow from it."
The barrister warned against any attempt to introduce an unincorporated convention by the backdoor.
'Prodded by National Trust'
He also argued the World Heritage Committee was notified about the planning application in 2010, with its secretariat agreeing to respond if it raised serious issues.
"They only came back to us two years later having been thoroughly prodded by the National Trust," he told the court.
Those behind the planned 365-acre development, to be known as Bushmills Dunes Golf Resort and Spa, claim it will boost tourism and create hundreds of jobs.
But according to the trust it could have a major environmental impact, threatening the habitat of some rare species.
Stewart Beattie QC, appearing for the charity, identified a lack of completed ecological surveys, adding that one expert had found "conjectural and superficial" information supplied.
In a critique of Mr Attwood's examination and handling of the proposals, he said: "It's as far away as one could find from a rigorous assessment, a challenging approach and an interrogation of the applicant's case."
But Mr Elvin rejected claims that the minister was not entitled to reach his decision on the basis of the available environmental details.
He argued that adequate information was supplied, adding: "What is sought to be done here is to use the environmental information issue as a means to derail the project."
The hearing continues.