Anna Karenina cinematographer Seamus McGarvey in Oscar race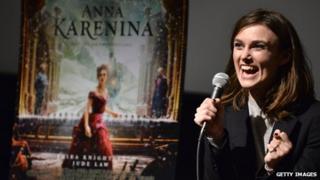 Northern Ireland cinematographer Seamus McGarvey has said he is delighted he is to be nominated for an Oscar for a second time.
The Armagh man worked on the film Anna Karenina, and he is also on a shortlist for a BAFTA for the film.
He was previously nominated for an Oscar for Atonement in 2008.
"There's not a hope in hell of me winning, but I'm lucky to stand alongside the greatest, literally this year they are all my heroes, the people I look up to Bob Richardson, Janusz Kaminski, Roger Deacon, people I revere because of their cinematography... I'm just lucky to be the runt of the litter," he said.
His other films include The Hours, The Avengers and We Need to Talk About Kevin.
Mr McGarvey said that he heard he was on the list because he lost a bet with the Godzilla director Gareth Edwards, who had bet $100 that he would be nominated.
"The power was out so I couldn't get the internet working when I got a text from Gareth which said 'you owe me $100' that's the best $100 I've ever paid out," he added.
He said that the director of Anna Karenina, Joe Wright, had got the best out of the cast and crew on the film.
"I've been very lucky to know him and for him to trust me with the job of lighting and photographing his movies," he said.
"He creates a whirlwind of images and ideas, whether you think they work or not emotionally, and I think they do, they are singularly unique and from an artist's eye."
The film has been nominated for four awards, cinematography, costume design, score and production design.