Crom Castle, Fermanagh, is setting for BBC comedy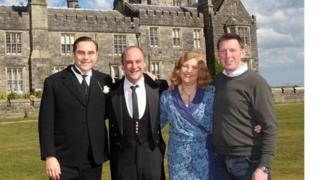 A new BBC comedy filmed in County Fermanagh will hit television screens for the first time on Sunday.
David Walliams and Jennifer Saunders are two of the stars in Blandings, a production based on the works of PG Woodehouse.
The six-part series was filmed at Crom Castle near Newtownbutler in County Fermanagh.
It becomes the fictional 'Blandings Castle' which is home to a dysfunctional family of aristocrats.
The story is set in Shropshire but the producers found the private home of the Earl of Erne to be the perfect location.
Viscount Crichton said he hopes his family is not too similar to the mad family portrayed in the series.
He said it was a wonderful experience having stars which also include Timothy Spall, Mark Williams and Paloma Faith at Crom, as part of a 60-strong cast and crew.
"I think here at Crom was a one-off for them," he said.
"Jennifer Saunders tweeted: 'It's a small piece of heaven; in fact it's a rather big piece of heaven, and to be here for six weeks - I can think of a lot worse places to be filming.'"
Having once failed to get into drama school himself, Viscount Crichton was given the chance to fulfil his own acting ambitions.
"I might appear somewhere and the irony is that I was given a very small part as an extra playing an under-butler in my own house, which the cast and crew thought was incredibly amusing," he said.
Another extra to appear in the series is the manager of Crom Castle, Noel Johnston, who is seen rowing a traditional boat called a cot.
"Mark Williams and I actually rowed the old Lough Erne cot, it's a 100-year-old cot, which my grandfather used to row," he said.
"That was his job at Crom so that was an emotional thing for me.
"I spent an hour or so with Mark teaching him how to row it, but I must say he took to it like a duck to water so it was great fun."
Noel Johnston said the cast loved Fermanagh,
"We had David Walliams out on the lake in the boat," he said.
"We had Jennifer Saunders and Timothy Spall out in the local hotels in Enniskillen sampling our good food and our hospitality.
"They were actually blown away by Fermanagh, not just Crom estate and the castle, but the whole of Fermanagh and they thought it absolutely beautiful."
A number of local businesses benefited during the production and now it is hoped that the exposure provided by the prime-time comedy will be a boost for the whole area.
While Crom Castle is a private home, in recent years the west-wing has been available to hire as a wedding venue and accommodation.
Part of the Crom Estate is now owned by the National Trust and the grounds are open to visitors.
Viscount Crichton said: "We live in a large house and it's expensive to maintain.
"We have to do our bit to keep the house. It's not to make a massive profit here, it's to keep the house with the respect that it deserves to hand on to the next generation.
"There've been success stories with other large houses being used in films and television series and I'm sure there will be some interest.
"It's not just about Crom, the castle and the estate, it's about Fermanangh.
"If I can help put Fermanagh on the map for the business point of view which we all know at the moment the economy is not great in this part of the world so anything I can do to help the county I think is fantastic."
There are hopes that if Blandings proves to be a ratings success then filming could return to Crom for a second series.
The test will be if people find it funny, as Timothy Spall who plays Lord Emsorth said: "One of the terrible things about comedy is that people have to laugh - you can always cut that and call it a drama."