West Belfast homeless centre destroyed in fire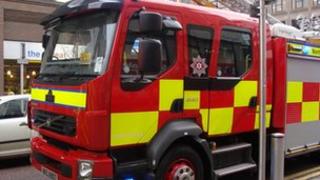 A homeless drop-in centre in west Belfast has been destroyed in an overnight fire.
It happened at about 03:45 GMT on Sunday at the centre in St Peter's Square off the Lower Falls Road.
"The damage is very significant, it will not be useable again," said Sandra Moore who runs the centre.
"One half of the building is gone, it has caved in and anything that was in the centre, we have lost."
The centre delivers clothes, food and showers to the homeless or people at risk of homelessness.
"We also offer a whole raft of support services - access to health care, benefits and housing advice," Ms Moore said.
The centre is open seven days a week from 08:00 GMT to 22:00 GMT.
"This morning, it was heart breaking to see the faces of our clients when they arrived and saw what had happened.
"It was dreadful."
The centre will continue to support clients as much as possible. They were due to relocate at the end of January and a new building is being prepared.
SDLP councillor Colin Keenan said: I am calling on any and all agencies who can help provide shelter for those affected by this blaze to do so immediately.
"It is hard enough to be homeless in the dead of winter without being able to rely on the small bit of support you turned to. So it behoves us all to do everything we can."