Government failed to engage with loyalists says Peter Hain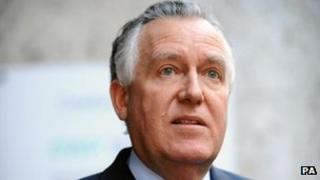 Former Northern Ireland Secretary Peter Hain has said that the government's failure to engage with loyalists has contributed to violent protests.
"In Northern Ireland, I think there is a particular issue with the loyalist community and I do not think the government is doing enough to engage with them," he said.
"I took some risky decisions to engage with people who were on the fringes and some actually almost in uniform as it were, in paramilitary activity, and it paid off."
Mr Hain said that, coupled with youth unemployment, made the situation in Northern Ireland "very toxic".
"Youth unemployment is horrific in Northern Ireland and particularly loyalist youngsters feel that they don't have a future. They think that republicans are getting everything.
"You've got youngsters without training, without jobs, on both sides of the divide actually feeling that this is 'not their scene' any more.
"Because they can't get jobs, they don't have a stake so they're causing trouble, and there's also, I think, an identity issue there as well," he told BBC's The Wales Report.