Man released over Alliance Party house attack in Bangor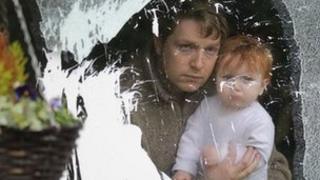 A man arrested in Bangor, County Down, over an attack on the home of two Alliance Party councillors has been released pending further inquiries.
A window was smashed and paint thrown at Michael and Christine Bower's home in the Carnalea area on 5 December.
The 40-year-old man was questioned about criminal damage.
The attack was one of a series on Alliance Party property linked to protests over Belfast City Council's union flag decision.
The party was targeted after Belfast City Council voted to fly the union flag at city hall only on designated days.
Alliance holds the balance of power on the council, and could have voted down the original motion to remove the flag on all days.
Instead it came up with a compromise, suggesting that the flag should be flown only on designated days.