Child killer Robert Black sexual fantasies were lived out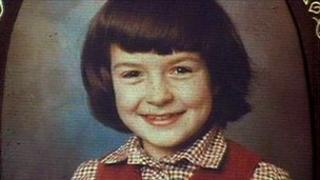 A serial child killer's sexual fantasies led him to hunt for young victims he could live them out on, the Court of Appeal in Belfast has heard.
Robert Black, 65, from Grangemouth in Scotland, is attempting to overturn his conviction for Jennifer Cardy's murder.
The nine-year-old was kidnapped and killed 31 years ago.
Black's legal team contend that his criminal history was wrongly revealed at the trial for murdering the school girl.
The nine-year-old disappeared as she cycled to a friend's house in Ballinderry, County Antrim in August 1981.
Her body, suspected of being sexually abused, was discovered nearly a week later at a dam near Hillsborough.
Black, a former delivery driver from Grangemouth in Scotland, was said to have been in Northern Ireland at the time on a work trip for a London-based poster dispatch firm.
He was found guilty of kidnapping and murdering Jennifer in 2011 and ordered to serve at least 25 years in prison.
It emerged during a six-week trial at Armagh Crown Court that he had already been convicted of killing three other girls, abducting a fourth, and attempting to snatch another.
Criminal history
Jurors were told how he was jailed at Newcastle Upon Tyne in 1994 for three unsolved murders from the 1980s - those of 11-year-old Susan Maxwell, from the Scottish Borders, five-year-old Caroline Hogg, from Edinburgh, and Sarah Harper, 10, from Morley, near Leeds.
Black's legal team contend that his criminal history was wrongly revealed at the trial for murdering Jennifer.
According to his lawyers the trial should have been halted due to a lack of identification evidence against him.
But the prosecution submitted that Black's abnormal propensity for targeting pre-pubescent girls was strong evidence of his guilt.
Prosecutors argued in court on Wednesday, that the jury who convicted him of murdering Jennifer Cardy had a right to know about "distasteful" material found in his van.
During the trial it emerged that searches of the convicted killer's van and home uncovered tape, rags, children's clothing, and images of children being abused.
He told police that he would have worn the children's clothing, including a swimsuit for a girl aged eight to 10.
Toby Hedworth QC, for the prosecution, argued that disclosing these details had no prejudicial effect.
Dissimilarities
During the three-day hearing appeal judges have heard how striking similarities between the Jennifer Cardy case and the other three child killings was strong evidence of Black's guilt.
But defence counsel David Spens QC identified two dissimilarities - Jennifer's body was not bare-legged nor had her shoes been removed.
He stressed the high threshold for admitting such bad character evidence.
Mr Spens said: "The evidence of similarities between the offences it was established he had committed before the trial, and the evidence concerning the abduction and death of Jennifer Cardy, should be very cogent, particularly in a case where it would constitute the only evidence of identification.
"Not only should the evidence be very cogent, it should be identical."
The three judges who have been hearing the appeal - Lord Chief Justice Sir Declan Morgan and Lord Justices Higgins and Girvan - reserved their decision on the appeal.
Sir Declan said: "We will give our judgement as soon as we can."