Charity says 'hundreds face homelessness' in Northern Ireland in 2013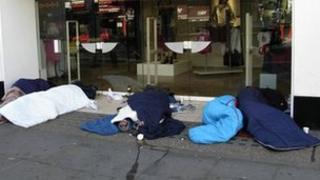 Hundreds of people in Northern Ireland are facing the prospect of homelessness in 2013, the Simon Community has said.
A total of 5,047 households presented as homeless to the Housing Executive during April to June 2012.
This was an increase of 878 compared to the same quarter in 2011.
The charity said action was needed to stop the issue "getting out of control".
"Increasingly we're dealing with the 'new homeless', people who have been living fairly comfortably until hit by job loss, family break-up or another crisis," its chief executive Carol O'Bryan said.
"Their savings soon run out and suddenly they find they can't meet the mortgage payments or pay the landlord.
"Often they turn in desperation to the quick fix loans they see advertised on TV, not realising that the high interest charged by many will only add to their problems."
The charity has seen a substantial increase in the numbers of people approaching it for accommodation. This rose from 1,972 in 2009/10 to 3,652 in 2010/11.
It said 13,400 calls were received through the charity's new freephone helpline in 2011/12.
Ms O'Bryan said it was dealing with families who did not fit "society's traditional stereotype of the homeless".
"They aren't running away from anything, they are not transitioning out of care, they don't have mental health issues, alcohol or substance abuse problems," she said.
"Their pride means that they often hide their difficulties and the family support system which, thankfully, still exists in Northern Ireland means that they are more likely to be 'sofa surfing' around relatives' homes than actually on the streets.
"They still need help, however, and we are calling for active intervention now to stop homelessness in Northern Ireland getting out of control."