US Ambassador Melanne Verveer to present Clinton documentary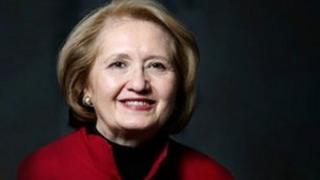 Hillary Clinton's White House Chief of Staff Melanne Verveer is to present a new documentary for BBC Radio Ulster.
Mrs Verveer served with Mrs Clinton while she was First Lady of the United States and continues to work with her as US Ambassador-at-large for Global Women's Issues.
The documentary looks back at the Clintons first visit to Northern Ireland in 1995.
It will be broadcast on Sunday 20 January 2012.
Ambassador Verveer accompanied President Bill Clinton and First Lady Hillary Clinton to Northern Ireland in 1995 and has visited many times since.
After leaving the White House, Mrs Verveer became the chief executive of the charity Vital Voices, which she founded alongside Mrs Clinton.
She was sworn in as Ambassador-at-large for Global Women's Issues in 2009.
Mrs Verveer has made many trips to Northern Ireland over the years. Most recently she gave a lecture on women's roles in the peace process at the University of Ulster in December.
"I'm delighted for this opportunity to take a look back at that historic first visit of a sitting US President - and the First Lady - to Northern Ireland," she said.
The documentary, Christmas with the Clintons, will be broadcast on BBC Radio Ulster and BBC Radio Foyle on Sunday 20th January at 13:30 GMT and will be repeated on Thursday 24th January at 19:30 GMT. It will also be available on BBC IPlayer Radio.