Bad weather leaves 2,400 NI homes without electricity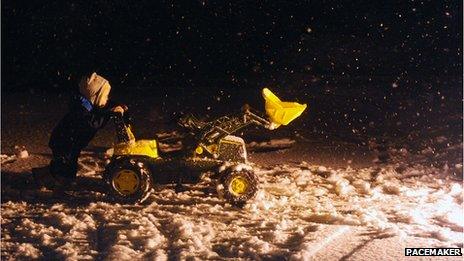 About 2,400 NIE customers along the east Down coast have been left without power due to the severe weather.
Snowfall has also hit road-users and flights out of Belfast International Airport and George Best Belfast City Airport.
The International Airport said a flight to Bristol had been cancelled and all other departures to the rest of the UK were running with slight delays.
Some flights from Belfast City Airport have also been cancelled or delayed.
The airport said any cancellations on Friday evening "were the result of operational decisions taken by the individual airlines".
The Met Office warning of an amber alert, the second highest level, remains in force.
NIE said areas of Craigavon and Banbridge were also affected by loss of power. The company said conditions were very bad but it was doing its best to have power restored.
While flights are still coming in and out of Belfast International and Belfast City, several airports in England are closed and Northern Ireland passengers are advised to contact their airlines before leaving home.
The knock-on effect of a runway closure at Belfast City, added to the closure of destination airports, caused delays later on Friday.
There have been cancellations on services to Birmingham, Heathrow, Southampton, Glasgow, Manchester, East Midlands and Cardiff.
A spokesperson for the International Airport said: "The airport remains open and operational, however, we are keeping a close eye on the weather and our snow teams remain on standby.
"Flight delays and cancellations are due to weather at other UK airports."
Translink said all of its Belfast Metro bus services were experiencing delays of up to 55 minutes due to the adverse weather conditions. The company said the services would operate on main roads only and estates would not be served.
All ferry sailings have been cancelled on Friday between Rathlin and Ballycastle due to the bad weather.
Police have warned of poor driving conditions on roads throughout Northern Ireland. They advise drivers to reduce speed and used dipped headlights.
There are reports of snow in all counties of Northern Ireland and delays on a number of roads.
Snow has accumulated on the Glenshane Pass and visibility has been reduced. The road is still passable but drivers are advised to exercise caution.
BBC NI weather presenter Cecilia Daly said sleet and snow would continue on Friday evening and overnight with several centimetres of snow accumulating in some areas especially inland parts of Down, Armagh and Antrim.
She added: "The wintry weather will be more patchy in the west. It will become very icy generally across Northern Ireland on Friday night with temperatures dropping to sub-zero. Tomorrow will be drier overall though still very cold with wintry flurries."
Transport Minister Danny Kennedy said that gritters were on standby to deal with bad weather.
He said that since October, more than 300 staff and over 130 gritters have been salting main roads during the cold spells.
"We are now half-way through the winter period and would expect further icy conditions and snow before the end of March," he added.
"During spells of prolonged snow, all gritters will be fitted with snow ploughs and efforts directed to clearing snow from motorways and the trunk roads, before moving to other main roads and the busiest urban link roads."
He added that the operation will continue until all roads were cleared, but warned "this may take some time, even with all resources deployed".
In very deep snow, Roads Service will use its nine snow blowers, the latest of which can shift 1,600 tonnes of snow an hour.
Any school closures will be listed on BBC Northern Ireland's digital text on the red button service.
Related Internet Links
The BBC is not responsible for the content of external sites.