Belfast City Airport runway temporarily closed due to snow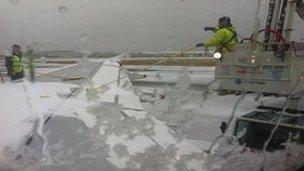 Belfast City Airport's runway has reopened after being closed for a time on Sunday afternoon so that snow could be cleared from it.
The airport has been experiencing delays and cancellations due to the knock-on effect of weather problems at other UK airports.
The Roads Service has warned there is a risk of ice, and snow on some roads.
There is likely to be more snow in eastern parts of Northern Ireland later on Sunday.
Earlier, Northern Ireland Electricity said all the homes without power due to the weather are now back to normal.
At its peak more than 2,500 homes across Northern Ireland were affected as a result of heavy snow and high winds on Friday.
NIE said power was restored to the remaining 150 homes, mainly in County Down, by Saturday night.
Its engineers used a helicopter to get to some of the remote areas which had been affected.
Salting operations were undertaken in Northern Ireland on Saturday night and more had been carried out on Sunday morning.
Motorists are advised to exercise caution when travelling, particularly when driving on untreated roads.
Aer Lingus has cancelled a number of flights to and from London's Heathrow airport.
The 12 flights involve Dublin, Belfast, Shannon and Cork airports.
Related Internet Links
The BBC is not responsible for the content of external sites.