Basil McCrea votes against UUP for first time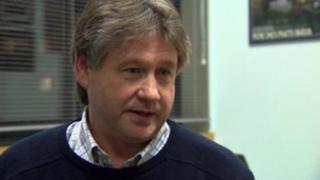 The Ulster Unionist MLA, Basil McCrea, has voted against his party colleagues at Stormont for the first time.
The Lagan Valley representative has been at odds with the UUP leadership for some time and is currently facing internal disciplinary action.
On Monday, he voted against a DUP amendment that deleted a reference to the Good Friday (Belfast) Agreement.
He said he felt the UUP were not prepared to stand against the DUP and champion the 1998 peace accord.
Ealier on Monday, he warned that if his party entered into an electoral pact with the DUP he would quit the UUP.
Mr McCrea said: "I've made it absolutely clear that if there is any suggestion of unionist unity - or enhanced unionist co-operation that looks to all of the world like it is unionist unity - then I will not be in it.
The DUP motion was not accepted by the Assembly but a motion condemning recent acts of violence was carried by MLAs.