Hazel Stewart refused appeal over woman's murder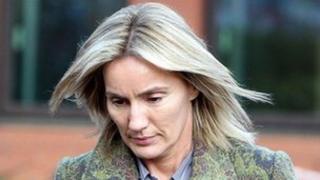 Double killer Hazel Stewart has been refused an appeal against her conviction for murdering a woman.
She had already dropped her appeal against the conviction for the murder of her husband, Trevor Buchanan.
The ex-Sunday school teacher was jailed for a minimum of 18 years in 2011 for murdering her husband and her ex-lover's wife, Lesley Howell.
The victims were found in a fume-filled garage in Castlerock, County Londonderry, in May 1991.
Stewart, 49, was jailed for plotting the murders with ex-dentist, Colin Howell.
On Monday, the Court of Appeal heard that on the basis of admissions made during police interviews, an appeal against the murder of her husband was not sustainable.
Turning to the challenge to being found guilty of Lesley's Howell's murder, her barrister said: "There's no evidence that this appellant had any prior knowledge of Howell's intention to kill his wife on that particular night.
"It's particularly significant that there's no evidence of this appellant giving Howell any assistance or indeed encouragement in respect of the killing of his wife on that particular night."
The judges hearing the appeal deliberated for approximately five minutes. They said they had no reason to doubt the safety of the conviction.
As she left the court, Lesley Howell's daughter, Lauren Bradford, said: "I'm just relieved that justice has been maintained for my mum."
Police originally believed that Trevor Buchanan and Lesley Howell had died in a suicide pact after discovering that their partners were having an affair.
They were, in fact, murdered before their bodies were arranged to make it look like they had taken their own lives.
It took nearly two decades for the truth to emerge when Howell, 52, suddenly confessed to both killings.
He pleaded guilty to the murders in 2010 and is serving a minimum of 21 years in prison.
Howell also implicated his former lover in the plot and gave evidence against her at her trial.
During the trial the court heard that Howell had planned and carried out the killings and Stewart had facilitated them.
She drugged her husband, allowed Howell into her house and disposed of a hose pipe used by Howell to gas Trevor Buchanan the night he was murdered.
Stewart, 49, has undergone psychiatric examinations and psychological assessments as part of her attempt to overturn her conviction.