Man 'photographed women's bodies' in Newtownards and Bangor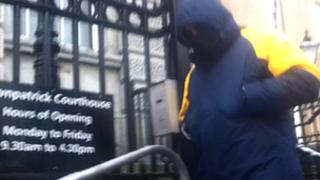 A Ballymena man who took photographs of parts of women's bodies without them knowing has pleaded guilty to eight charges at Downpatrick Crown Court.
William Moore, 40, from Old Cushendun Road, took the pictures with a camera, hidden in a box with holes in it.
The offences happened in Newtownards town centre and Bloomfield shopping centre in Bangor in August 2009.
Moore was charged with committing an act of a lewd, obscene and disgusting nature and outraging public decency.
He photographed his victims without their consent, while usually talking to them, when they were with their children.
His victims were fully clothed and did not know Moore, nor that he was secretly photographing some of them as they bent over.
He was released on bail and is due to be sentenced next month.