Executive departments receive £40m from finance minister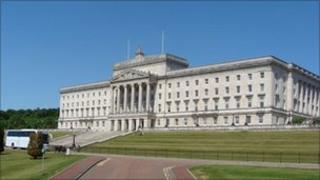 The finance minister has agreed to give an extra £10m towards health to ease winter pressures in hospitals.
Sammy Wilson waived an earlier agreement with the department of health that it was not eligible to bid for unspent executive funds every quarter.
It was one of a number of departments to benefit on Tuesday from the extra cash.
Mr Wilson handed out a total of around £40m in unspent funds.
Health minister Edwin Poots had asked for £25m.
Mr Wilson said he made an exception for health after party colleague Mr Poots asked if he could have extra money rather than risk unspent executive funds being returned to the Treasury.
The finance minister gave details of how the £10m would be spent.
"This allocation allows the department to address additional demand on emergency departments, and other acute hospital services, which result from winter and unscheduled care pressures," he said.
"It also provides some additional resources for family and childcare services, general dental services, and further work on infection control."
The justice department received an extra £10m for an early redundancy scheme for prison officers, while around £17m went to roads minister Danny Kennedy for new buses and improvements to roads.
The executive has not yet decided what to do about an £18m request from enterprise minister Arlene Foster following a legal dispute about a European grant to the Titanic Signature project.
Environment minister Alex Attwood was again refused assistance to fund the council shake-up.
The minister also highlighted an extra £10m in Treasury funding for two new schemes to stimulate and assist housing.
Millions of pounds in unspent funds were returned to the executive by the department of social development due to under-spending in the Social Security Agency and Housing Executive.