Court told cocaine worth £135,000 found in car near Banbridge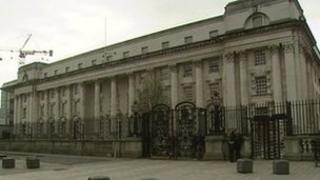 Cocaine seized by detectives who stopped a car after it crossed into Northern Ireland is worth up to £135,000, the High Court has been told.
The drugs were found in the boot of a Mercedes stopped near Banbridge on 11 January.
A Lithuanian man arrested at the scene is accused of trying to smuggle the drugs from the Irish Republic.
Vitalij Furmaniuk faces charges of importing and possessing Class A drugs with intent to supply over the seizure.
The 32-year-old, with an address at Warren Park, Lisburn, was granted bail but banned from leaving Northern Ireland.
He was returning from Dublin with a woman when PSNI detectives stopped his car on the A1 dual carriageway.
A parcel containing the cocaine was discovered in the area where the jack is kept.
The drugs have an estimated street value of up to £135,000, the court heard.
Electronic scales and money bags were said to have been found during follow-up searches at Mr Furmaniuk's home.
Defence counsel Conor Maguire said the accused told police he had gone to Dublin to collect an unidentified package and bring it into Northern Ireland.
"It's likely given the circumstances in which the car was stopped and the involvement of the serious crime unit, that there was intelligence in respect of this," Mr Maguire said.
"It's likely they knew where the car came from and where it was going."
The barrister claimed there was nothing to suggest his client has a major role in any drugs operation.
Responding to prosecution fears that Mr Furmaniuk may flee if released, he argued that the accused has lived in Northern Ireland for the last six years.
Before that he spent 10 years in Spain, working there as a doorman.
Granting bail by "a narrow margin", Mr Justice McCloskey ordered Mr Furmaniuk to surrender any passports and national identity cards.
The judge imposed a curfew, electronic monitoring and sureties of more than £10,000.
Mr Furmaniuk was also banned from driving or being in any vehicle apart from public transport.