Blackrock Manufacturing Ltd creates 38 jobs in County Tyrone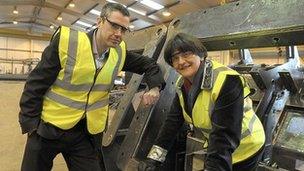 A new engineering company in County Tyrone is to create 38 jobs.
Blackrock Manufacturing Ltd has been set up in Coalisland by Pat O'Neill. He co-founded Powerscreen, a Dungannon firm which makes machinery, in 1965.
Northern Ireland's Enterprise Minister Arlene Foster welcomed the announcement and said the firm would create "skilled engineering jobs".
Invest NI has offered the firm £229,000 to support the jobs and help it export its products to Europe and the US.
Blackrock Manufacturing Managing Director Conor Monaghan said: "This is an exciting new venture and one that is bringing much needed jobs to County Tyrone.
"We are confident that we can grow the company over the next few years and achieve significant export sales."
The new firm will initially make track frames and supply parts to other manufacturers who build earth-moving, demolition and recycling equipment.
It plans to also develop its own line of excavator buckets and hitches.
The enterprise minister said the firm would "manufacture components that would otherwise have been sourced in China and Eastern Europe".
Mrs Foster said: "County Tyrone has a strong manufacturing heritage and this new company adds to the region's standing in this area."
"The company also intends to develop innovative new products that will be marketed in Great Britain, Europe and the US and will provide opportunities for future growth," she added.
Blackrock Manufacturing should be able to benefit from its founder's considerable experience in the industry.
For almost 50 years, Powerscreen has manufactured heavy machinery used in the construction and quarry industries.
It currently sells more than 50 different product across the world.