Dual mandate on Irish unity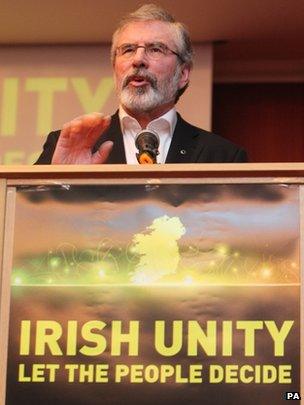 Appearing on the Nolan show on Wednesday, I said that the "border poll", as referred to in the Good Friday Agreement and the 1998 Northern Ireland Act, would be held in Northern Ireland alone. The SDLP's Conall McDevitt begged to differ.
I took my understanding from the wording of the agreement and the 1998 law, both of which refer to the Secretary of State calling a 'border poll'.
There's no mention in either document of the Tanaiste needing to sign off on such a decision, even if in practical terms it's impossible to imagine London pushing ahead with such a move without at least some form of tacit approval from Dublin.
However, the South Belfast MLA has pointed me to the wording of the Irish constitution which replaced the old Articles 2 and 3. Those articles laid a direct territorial claim to the territory of Northern Ireland.
By contrast the new Article 3.1 states that "it is the firm will of the Irish nation, in harmony and friendship, to unite all the people who share the territory of the island of Ireland, in all the diversity of their identities and traditions, recognising that a united Ireland shall be brought about only by peaceful means with the consent of a majority of the people, democratically expressed, in both jurisdictions in the island".
It seems clear from this article that you couldn't get a United Ireland unless you had a similar poll south of the border.
Whether the southern poll would, as in the case of the Good Friday Agreement, have to be held at exactly the same time as a northern referendum is less clear.
Would it be worth an Irish government putting southern voters to the trouble of going to their polling stations unless their northern counterparts had already demonstrated their consent for unification?
Given that both London and Dublin, in the shape of Theresa Villiers and Enda Kenny, have made plain their opposition to a 'border poll' any time soon, the question remains rather academic. But the Irish constitutional requirement for consent in both jurisdictions raises the intriguing prospect of southern voters disagreeing with their northern cousins should A Nation Once Again turn from an anthem into a realistic prospect.
Would southern Irish voters balk at the prospect of taking on the heavily subsidised north? Or, like West Germans embracing their much poorer eastern brothers and sisters, would historic nationalism trump short term economics?