St George's market, Belfast, traders seek rent holiday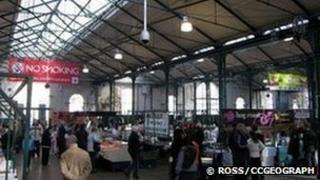 Traders at St George's Market in Belfast have formally asked the council to allow them to trade for up to four weeks rent free due to the impact of the union flag protest marches.
They say the marches have had a devastating effect on business.
Some have claimed to be losing up to £700 every weekend.
Protest marches over Belfast City Council's decision to stop flying the flag every day have taken place almost every Saturday since 3 December.
The march route has included either Queen's Bridge or Albert Bridge, both of which are close to the historic St George's Market.
Most of the traders in the Saturday market are self-employed or run small businesses with only a few employees.
Cake-seller Paula Hinchcliffe said she had lost £700 on two successive weekends, compared to what she would normally expect to make.
"It's causing an awful lot of problems with my cash-flow," she said.
"Last weekend alone I gave away nearly £200 worth of products. There's no point - I can't take it home."
Police presence
Meanwhile, Sean Kerr, who has sold antiques at the market for nine years, said footfall at the market was down by at least 50% on the same period last year.
"People feel intimidated," he said. "The large police presence as well, although necessary, also adds to that intimidation."
Traders have organised live music and events to try to entice Saturday shoppers back.
The chair of the National Market Traders Federation for St George's, Pat Dyer, said some traders are not even making what it costs them to rent a pitch at the market each week.
"Most of them only pay about £15 or £16 per table. There were traders here last weekend who did not even raise enough money to pay for that," he said.
Mr Dyer said traders have now formally asked the council, who are the market's landlords, to make a "goodwill gesture."
"That could be a holiday for three or four weeks where they don't have to pay rent," he said.
He also said that traders have asked for a meeting with Belfast's Lord Mayor Gavin Robinson to discuss the situation.
Earlier in January, a number of business-owners in Belfast city centre called for a cut in their rates due to disruption caused by the flag protests.