Peter Robinson welcomes EU peace fund indications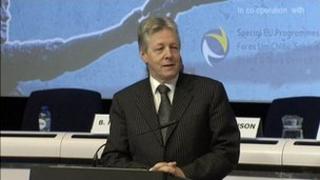 First Minister Peter Robinson has welcomed indications that further EU peace funds seem likely to be made available to Northern Ireland.
Mr Robinson was addressing a conference in Brussels on the impact of European peace funding in NI over the past two decades.
He said European support had been crucial since the approval of peace funding 18 years ago.
Deputy First Minister Martin McGuinness is also attending the conference.
Mr Robinson said disorder on the streets of Northern Ireland in recent weeks was a wake up call that there was still much work to be done in building peace and stability.
However, he said the Northern Ireland Executive had shown itself to be robust and stable since the restoration of devolution in 2007 and had demonstrated it had the stamina to stay the course.
"Northern Ireland is a region transformed but the journey isn't over yet," he said.
"The disorder witnessed on our streets in recent weeks is a stark reminder, a wake-up call, that there is still much work to be done.
"In that context we warmly welcome the news that further peace funds seem likely at this stage to be made available to help us achieve our ultimate goal."
Loyalist street demonstrations have been taking place for almost eight weeks, since Belfast City Council voted to change its long-standing union flag policy on 3 December.
The majority of the street demonstrations have passed without incident, but some have resulted in serious rioting and injuries to more than 100 police officers.
The European Union has provided Northern Ireland with more than £1bn of peace funding since 1995.
The money has funded scores of community groups as well as high profile projects like the Peace Bridge across the River Foyle and the planned Conflict Resolution Centre at the site of the former Maze prison.
In a video prepared by the European Commission, the coordinator of the Maze Peace Building project, Mary McKee, explained the importance of the £18m European grant towards the former jail's redevelopment.
"This site here at the Maze/Long Kesh is possibly one of the most sensitive and emotional sites in Northern Ireland, if not, Europe, so the ability to get consensus to develop a conflict resolution centre on the site has been a huge achievement," she said.