New cervical cancer test introduced in Northern Ireland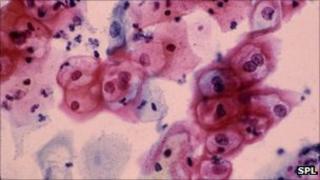 The Health Minister Edwin Poots has announced a test for the human papilloma virus (HPV) has been included within the Northern Ireland cervical cancer screening programme.
The aim of the programme is to reduce the number of women who develop cervical cancer.
Mr Poots said the link between HPV and cervical cancer had "long been established".
He said between 20 and 30 women died from the disease in NI each year.
"The HPV immunisation programme to protect young girls against cervical cancer was introduced in Northern Ireland in 2008," he said.
"Incorporating HPV testing within the cervical screening programme can be seen as a further step in the fight against cancer."
The Department of Health said screening is offered to all women aged 25 to 64 and is carried out via the cervical smear test.
HPV testing will be done using the sample of cells taken during the cervical screening test.
Cervical smears which contain borderline or low-grade abnormalities will be tested for high-risk HPV strains and, if positive, the woman will be referred to colposcopy (a procedure to examine an illuminated, magnified view of the cervix).
Women with borderline or mildly abnormal smears that are HPV negative will be able to return to routine recall for cervical screening immediately, instead of having a number of follow-up smears.
Treatment
Currently, women who have received treatment for cervical abnormalities are followed up by annual smear tests for 10 years.
However, the department said it "is known that women with a normal or low-grade smear and HPV negative at six months after treatment can return to routine recall for cervical screening".
Mr Poots said HPV testing would have many benefits, including:
The number of repeat smear tests is reduced, which will reduce patient anxiety
Women with abnormal results will wait a shorter time to a definitive outcome
Colposcopy resources are targeted at women who are most likely to have significant disease
Faster return to recall for women who have undergone treatment
Chief Medical Officer Dr Michael McBride encouraged all women to attend for cervical screening.
He said: "Cervical cancer has a devastating effect on many women and their families each year in Northern Ireland.
"However, it can be prevented as pre-cancerous cell changes can be picked up before they have a chance to develop.
"I would urge all women to take up her invite for cervical screening when asked to do so. The message is clear - screening saves lives."