Horsemeat row: Trade union's fears over Silvercrest jobs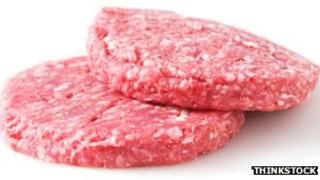 A leading trade union has said fears are growing for at least 112 jobs at the Silvercrest meat processing plant in Ballybay, County Monaghan.
Three major supermarkets have cancelled contracts for frozen beef burgers with Silvercrest.
It follows the discovery of horse DNA in burgers imported as a raw material from Poland by the firm.
Unite is seeking talks with the owners of the plant, the ABP Food Group.
Aldi Ireland is the latest major supermarket to withdraw a frozen burger contract with Silvercrest.
On Wednesday, The Co-operative Group joined Tesco in "delisting" Silvercrest as a supplier.
In a statement, Aldi Stores (Ireland) said it took the quality of "all its products extremely seriously and demands the highest standards from its suppliers".
"Aldi confirms that it has regrettably had to end its contract with Silvercrest," it said.
"It was necessary for Aldi to take this decision due to a serious breach of contract by Silvercrest in relation to the agreed product specification for Aldi's Bord Bia Approved Oakhurst 100% Irish Beef Burger 8 pack.
"An internal Aldi investigation into the matter is ongoing.
"The product has been withdrawn from sale at all Aldi stores. No other products were supplied to Aldi by Silvercrest."
The Irish Farmers' Association has appealed for increased inspections at meat processing plants.
Its president, John Bryan, said the association wanted greater traceability of imported products.
Investigations
On Thursday, ALDI UK said it had suspended its contract with Dalepak, which is also owned by ABP, to supply beefburgers and was conducting further investigations at its factory in Yorkshire.
The UK Food Standards Agency (FSA) said on Wednesday that food standards authorities in the Irish Republic are certain that horsemeat found in beefburgers came from Poland.
FSA boss Catherine Brown told the Commons environment committee that a mixture of "beef and horse offcuts" were contained in a frozen block of filler product imported from Poland.
The meat was processed at the Silvercrest plant in County Monaghan.
Investigations have begun in Poland to find out how beef and horse products were mixed.
Traces of both horse and pig DNA were found in value beefburgers sold in Iceland, Tesco, Aldi, Lidl and Dunnes Stores.
Ms Brown told MPs the Food Standards Agency of Ireland (FSAI) investigation had found the Polish supplier was used by the Silvercrest facility for about 12 months.
She added that none of the samples tested by the FSAI had "anything in them that was unsafe to eat" and insisted there was "no evidence" to suggest the food was unsafe for human consumption.