Prisoner Ombudsman Pauline McCabe to leave post in May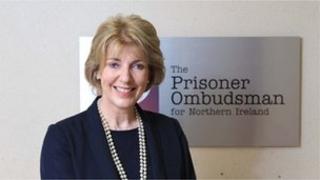 Northern Ireland's Prisoner Ombudsman Pauline McCabe is to leave her post in May.
She will step down when her term in office ends.
Mrs McCabe is unable to seek reappointment. The process to find her replacement has begun.
She took up the post in September 2008, replacing Brian Coulter, who was the first person to hold the post. He was appointed in 2005.
Mrs McCabe's initial three year appointment was subsequently extended for two years.
Commenting as the recruitment process to find her successor was announced, Mrs McCabe said: "It has been a privilege to do this job and to be part of influencing the much needed reforms in the prison service.
"However there are still a number of important reports on deaths in custody pending and my final annual report in May which will provide a much fuller account of my time in office and a review of the work undertaken."
Mrs McCabe, a business consultant who built up her own company, was previously a member of the Northern Ireland Policing Board for six years.
The Prisoner Ombudsman is appointed by the minister of justice for Northern Ireland and is completely independent of the Northern Ireland Prison Service (NIPS).
The Prisoner Ombudsman investigates:
Complaints from prisoners held in Northern Ireland
Visitors to prisoners held in Northern Ireland
Deaths in Prison Service custody in Northern Ireland