John Lewis: NI Executive must decide says Peter Robinson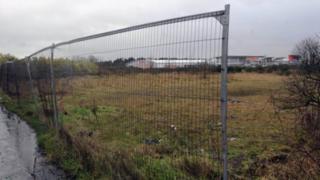 The controversy surrounding the planned John Lewis store at Sprucefield is now a matter for the Stomont Executive, the first minister has said.
Peter Robinson was responding to news that the developers behind the plan have withdrawn a planning application.
It follows a decision by Environment Minister Alex Attwood to limit the type of goods sold at the store to bulky items such as furniture or white goods.
Mr Robinson accused Mr Atwood of using a "Belfast First" policy.
He claimed it was about ensuring that if Belfast could not have it, nowhere else in Northern Ireland could have it.
Mr Attwood has said he will not be changing his mind over his decision to limit further development on the site of the planned John Lewis store near Lisburn.
Lagan Valley MP Jeffrey Donaldson has criticised the minister and said it was a "dark day".
"It has been going on now for nine years, John Lewis have patiently persevered with a planning system that has rocked them back and forward," he said.
"£150m of investment and 1,500 jobs and what is the message that Alex Attwood is sending out today, well it is if this situation persists we are closed for business.
"I think this is absolutely disastrous in the middle of the worst recession we have experienced for years."
Mr Attwood said that if the planning minister made decisions on what commercial interests might decide the planning department would be "chasing its tail day after day and month after month".
"I have to stand back, I have to put the Northern Ireland interest first, I have to stand back and say what is the right thing for Belfast and Greater Belfast," he added.
"I think my advice is right, timely and proportionate."
The Sprucefield plans, which include 19 retail units, were to have been considered by the Planning Appeals Commission (PAC) in March.
However, the consortium behind the plans said uncertainty over planning meant they "cannot proceed to inquiry".
The application was made by the developer Sprucefield Centre Ltd - a joint venture between the Australian property firm Westfield and the local developer, Snoddons.
Last month, Mr Attwood confirmed that a new area plan would limit further development at Sprucefield.
Now, the consortium have confirmed they have withdrawn the application, citing the minister's decision.
Planning policy
In a statement, they said they had been committed to investing more than £150m into Northern Ireland and create more than 1,500 retail jobs.
"Over the last nine years John Lewis has clearly and consistently stated that, having reviewed all available options, Sprucefield is the only suitable location to develop a new full line department store in Northern Ireland," they said.
However, the consortium said they would review their position once the executive had clarified the planning policy.
"John Lewis has reiterated its continued interest in opening a new department store at Sprucefield," they said.
A planning application for the 500,000 sq ft development was first made in 2004.
Objectors have said the scale of the Sprucefield project would damage town centres. Supporters have said it will bring jobs.
The planned development at Sprucefield was said to have been one and a half times the size of the Castlecourt shopping centre in Belfast.
John Lewis had committed to being the anchor tenant at the development.
The project has faced a series of legal challenges from some Lisburn traders who fear it could damage city centre shopping.
Rival retail landlords have also opposed it.