Lincoln: Academic describes role as historical consultant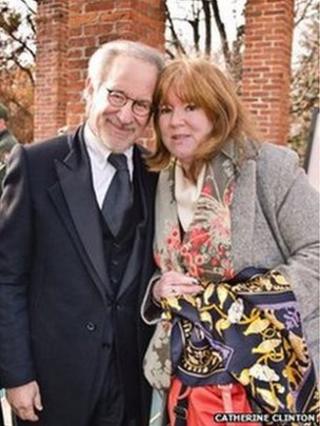 A professor at Queen's University in Belfast has been speaking about her role as a historical consultant on the new Lincoln movie.
US historian and Lincoln expert Catherine Clinton was consulted by filmmakers over costume details and details about the Lincolns' lives.
The academic has written extensively about Lincoln and his wife Mary.
The film, Lincoln, which was released in January, charts the life of the 16th president of the United States.
Directed by Steven Spielberg it stars Daniel Day Lewis as Abraham Lincoln and Sally Field as Mary Todd Lincoln.
Professor Catherine Clinton is the chair of US History at the Northern Ireland university.
"My involvement in the Spielberg Lincoln project began in 2005 when I was contacted by DreamWorks studio and asked participate in a summit in New York City," she said.
"Years later, five years after I moved Belfast, in the summer of 2011, someone from producer Kathleen Kennedy's office contacted me about offering some help to Joanna Johnston, Spielberg's premier costume designer.
"I was quite pleased to discover shortly thereafter that Joanna had already discovered my book, Mrs Lincoln: A Life - as Sally Field had been so enthusiastic - in an interview later she would call it her 'bible'."
Professor Clinton has worked on a number of film projects before so says she understands the demands placed on production teams.
"To be given an opportunity to directly have input on a film - a project that I was certain would have such wide impact, was extremely flattering and extremely challenging. I was a great admirer of Spielberg's historicism," she said.
Professor Clinton met with costume designer Joanna Johnston and actress Sally Field to discuss Mary Lincoln.
"When Joanna told me Sally wanted to meet me and arranged for a dinner in Richmond during filming, I was thrilled. It is really surreal after spending so much time in isolation with a character, imbedded with Mary Lincoln, to find someone who was equally fascinated, equally puzzled, passionately seeking insight," she said.
"Sally was like a laser beam trying to cut through all the artifice to get to the heart of Mrs Lincoln - a feat she achieved with remarkable flair and muted nuance.
"She commented in the DreamWorks companion volume to the film that I really gave her the information and insight she needed - rather than any interpretation - which was really her own instincts making their way into the character through the dialogue to become Mary Lincoln."
Joanna Johnston has since been nominated for an Oscar for Costume Design for the Lincoln movie while Sally Field has been nominated in the Best Actress in a Supporting Role.
'Intense relationship'
Professor Clinton said it was rewarding to see her interpretation of Abraham and Mary Lincoln's relationship make it to the big screen.
"I suppose it was most rewarding to feel as if my interpretation - that Mary and Abraham had a deep and intense relationship and that they had a sense of partnership over and above their bond as parents.
"Spielberg asked me directly to respond to some of the suggestions by others about Lincoln's relationship with Mary, and several portrayed him as a martyr, who had been tricked into a bad marriage," she said.
"One historian in particular frothed that Abraham Lincoln had been an abused spouse - that he had never loved his wife. I believe I made a forceful case in our discussions in 2005 - and the follow up of my book in 2009 strengthened my case that Mary be given her due."
Professor Clinton has written dozens of books including 'Harriet Tubman: The Road to Freedom' and 'The Other Civil War: American Women in the Nineteenth Century'.
She joined Queen's University Belfast in 2006, having previously taught at Union College, Brandeis University and at Harvard University.
"I teach and preach in our first year course for undergraduates in the Queen's school of history. In this introductory course, History and Historians, we have shown Spielberg's Amistad, and his stunning film - Schindler's List.
"I told him at Gettysburg - when we spoke after I saw the film for the first time - I would hope to show Lincoln as well to my Northern Irish students someday.
"I believe that he has demonstrated that he is a true student of history, and he is using his gifts to offer a full and rich sense of the past to millions of people."