World Police and Fire Games: Still no venue for opening ceremony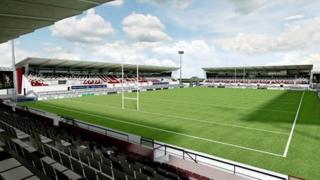 No venue has been found for the opening ceremony of the World Police and Fire Games in Northern Ireland despite there being less than six months to go.
The Ulster Branch of the Irish Rugby Football Union (IRFU) has ruled out the use of Ravenhill.
The IRFU told the organisers that staging the opening event at the east Belfast venue would clash with its own redevelopment plans for the stadium.
The refurbishment of the rugby ground is currently under way.
The cost of the redevelopment and the games themselves are both being part-funded by the Department of Culture Arts and Leisure, costing about £20m.
The games are billed as the third largest international multi-sport event in the world.
Ten thousand competitors and 15,000 visitors are expected to visit Northern Ireland for the games.
Former Ulster and Ireland rugby player Trevor Ringland has said the decision was "an opportunity wasted".
"I was disappointed. I thought it would be a fantastic venue with the two new stands that are going up," he said.
"This really is an opportunity for us to showcase Northern Ireland and the new facilities at Ravenhill would have been a fantastic way of showing the best of Northern Ireland."
SDLP MLA Dominic Bradley, who is on Stormont's sports and culture committee, said the organisers of the games would be "very disappointed" by the news.
"I think with just six months left before the beginning of the games, it's surprising, to say the least, that we haven't secured a venue," he said.
"There aren't that many venues available.
"There will be work beginning at Windsor Park and at Casement Park, there's a redevelopment process there as well, so the number of venues available is quite small.
"I think it behoves the organisers along with the department to ensure that a suitable venue is available and that venue is available in the not too distant future."