Justice Minister David Ford calls for more police support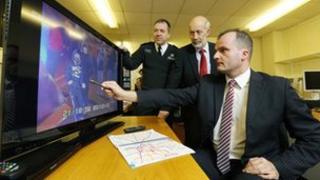 Justice Minister David Ford has called on members of the public who have information about crime to pass it to the police.
The minister was speaking following a visit to the Operation Dulcet major incident room.
He saw the work involved in identifying those breaking the law in recent protests by blocking roads, rioting and attacking police officers.
He said there could be no justification for such attacks.
He said: "The Police Service of Northern Ireland play an invaluable role protecting our community from crime.
"In recent months they have been the focus of attacks from both dissident republicans and rioters on our streets.
"I recently met with officers who have been in the front line of attacks during street riots and offered to them my support and gratitude for their vital role in restoring normality to our community.
"There can be no justification whatsoever for any attacks on police, prison officers or any emergency services. It is important that those breaking the law realise the consequences of their actions."