Monaghan meat plant Rangeland gets burger all clear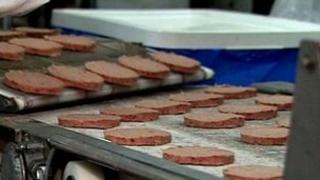 The production of burgers at a processing factory in County Monaghan is expected to resume shortly.
Rangeland Foods, near Castleblayney, suspended production after horse meat was found on the premises.
An audit by Department of Agriculture officials has now cleared it to resume producing burgers for the domestic and international markets.
Meanwhile, Poland's chief veterinary officer has written to Irish authorities on the issue.
Dr Janusz Zwiazek has requested access to documents, product labelling and test sample results after Irish authorities concluded beef products imported from Poland were contaminated with horsemeat.
His statement outlines how checks were conducted at three factories supplying the raw material and five slaughterhouses in Poland.
The analysis showed no meat, other than beef, had been sent to Ireland.
It also disputes information given by Agriculture Minister Simon Coveney about both the method and timing by which he was informed about the matter.
Dr Zwiazek also contested the suggestion that information about the problem had been placed on the Rapid Alert System for Food and Feed (RASFF) last Saturday.
He has asked for samples to be re-tested in the presence of the Polish companies affected and the Polish Veterinary Inspectorate.
Responding to the statement, Irish Farmers Association president John Bryan said: "I'm not totally surprised because naturally every country comes to their own defence in the initial investigations.
"This has dragged on much longer than I would have liked. This whole horse meat saga, imported product, should never have happened."
Burger filler
Rangeland was shut down after a sample at the factory tested positive for 75% horse DNA in raw ingredient.
The Food Safety Association of Ireland believes the horsemeat was introduced in blocks of frozen burger filler product imported from Poland.
On Wednesday, supermarket chain, Asda, withdrew four frozen burger products supplied by Northern Ireland company, Freeza Meats, as a precaution, in the wake of the horsemeat controversy.
A batch of meat containing 80% horse DNA was discovered in a cold store at Freeza Meats in Newry.
The Newry company said it was storing the meat for a firm based in the Irish Republic, after declining to buy it.
Freeza Meats said none of the meat had got into the food chain.