Ulster People's Forum drops Willie Frazer as its spokesman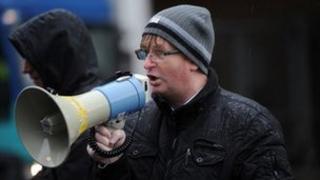 A group set up in the wake of the union flag protests has cut its ties with one of its main spokespeople.
The Ulster People's Forum has said it "no longer validates Willie Frazer as a spokesperson".
The forum said Mr Frazer had made recent statements to the BBC that were contrary to its "views, plans and agreed policies".
It added that Jamie Bryson was the "only" official spokesperson of the Ulster People's Forum.
White line protests
Mr Bryson said they took the decision following comments Mr Frazer made on BBC Newsline last week.
He added it was "untenable" that a spokesperson could publicly express views contradicting the agreed position of the group they represented.
Mr Frazer made the remarks on 31 January, in response to a statement by the Ulster People's Forum that called for the demonstrations to move to a "new phase of white line protests".
The call came after police had said they would arrest protesters who blocked roads illegally.
During white line demonstrations, protesters stand in the middle of a road but allow traffic to pass.
In the BBC interview last week, Mr Frazer said: "Jamie's a very smart young fellow, very capable. He just doesn't understand sometimes when it comes to dealing with certain issues.
"You have have to be, well, I would like to say there's no middle of the road, like the white line protests.
"If the people in certain areas decide to do a road block, that is up to them," he told BBC Newsline.
Rejected
On Thursday, Mr Frazer said he had not seen the latest statement from the Ulster People's Forum committee.
However, he rejected its right to say he was no longer a spokesman for the forum.
He said it was only an interim committee speaking for east Belfast and that the real Ulster People's Forum has not yet been formed.
Mr Frazer added: "My commitment was for a forum to be set up all over the country and that is what is going to happen. I have made many attempts to organise a countrywide committee but so far it hasn't happened.
"The country is buzzing to get such a forum started but it seems other people are trying to steer the committee down a particular path."
Stepped down
The Ulster People's Forum has been involved in a campaign of loyalist street protests across Northern Ireland for the past two months.
The demonstrations began on 3 December when Belfast City Council voted to reduce the number of days the union flag is flown at the city hall.
Mr Frazer is a former director of the victims' group, Families Acting for Innocent Relatives (Fair).
He founded the south Armagh-based organisation more than 13 years ago to support victims of republican violence.
IFA mascot
However, he stepped down from his role last November.
Meanwhile, it has emerged that weeks before the protests began, Mr Bryson made a brief appearance as the official mascot for the Northern Ireland football team.
He wore the 'Footie' costume and waved at fans during the team's World Cup qualifier against Azerbaijan on 14 November.
In a statement, the Irish Football Association (IFA) said: "The regular mascot was unavailable for the game and his replacement took unwell on the afternoon of the game and Mr Bryson stood in at the last minute. This was a one-off.
"Mr Bryson is not involved in, or has ever been involved in any of the association's community relations projects."
It also confirmed that as a teenage schoolboy, Mr Bryson had secured a few weeks of work experience with the IFA in 2005.
It added that he "has not been involved in any Irish FA activity since that time".